Olight i3T EOS is one of Olight's popular compact everyday carry flashlight from the "i" series. We will know more about the flashlight in our Olight i3T EOS Brass Limited Edition review.
This flashlight comes in different body types and colors, and it is the smaller version of Olight i5T EOS. It runs on a single AAA sized battery and has a maximum output of 180 lumens.
The flashlight was not provided by the manufacturer to us for review. I bought the flashlight and is part of my EDC gear rotation.
Product Specifications
Olight i3T EOS Brass
Specifications
LED
Philips LUXEON TX
Body material
Brass
Battery
AAA (Alkaline/rechargeable NiMH)
Output and Runtime
180 lumens (21 minutes)
5 lumens (16 hours)
Beam Distance

60 meters

Beam intensity
900 candela
Waterproof
IPX-8 (2 meters)
Dimension
89mm / 3.5in (length)
15mm / 0.59in (diameter)
Weight
75g / 2.65oz
Accessories included
1x AAA alkaline battery
1x dual-direction pocket clip
Here is the link to the manufacturer's website for Olight i3T Brass.
First Impressions
The flashlight is not that shiny compared to how its shown in the box which I prefer. It has a good weight compared to the usual flashlights in the AAA format with an aluminum body.
A single AAA battery is included in the package which is good as it is ready to use, which is great when giving this as a gift. I prefer to use rechargeable NiMH, so I will immediately replace the battery.
Olight i3T EOS Brass feels good in the hand, not too small, but fits perfectly when holding. It only has two modes, low and high, simple and easy to use. It clips well in my pocket, and would make a good EDC flashlight. When searching for an Olight for EDC, this is a good model to start with.
Packaging
Olight i3T EOS Limited Edition Brass comes in a white box which is the standard packaging from Olight. Since this is a special edition light, the box is larger than when compared to the normal box that the Olight i3T comes in.
Inside the box are the quick instruction card, user manual, and the flashlight in a vacuum sealed shrink wrapped plastic. This is actually good because the brass body material will eventually develop a unique patina once exposed to oxygen in the air.
There is a generic single AAA alkaline battery that comes with the flashlight, just remove the plastic tab, and its good to go.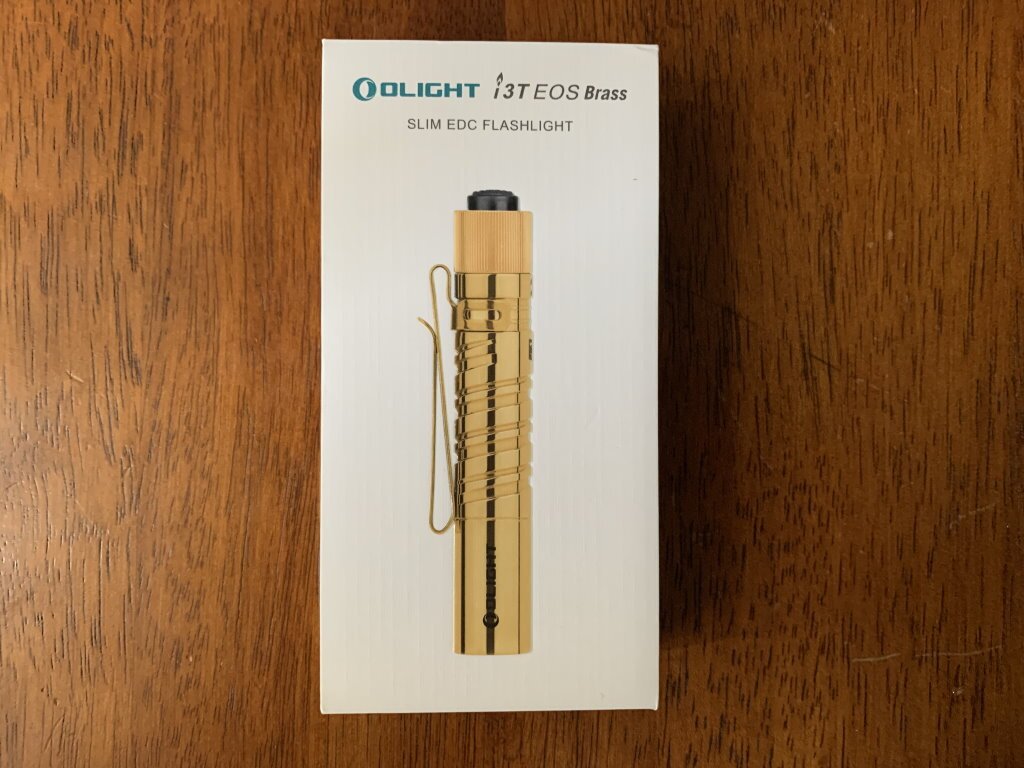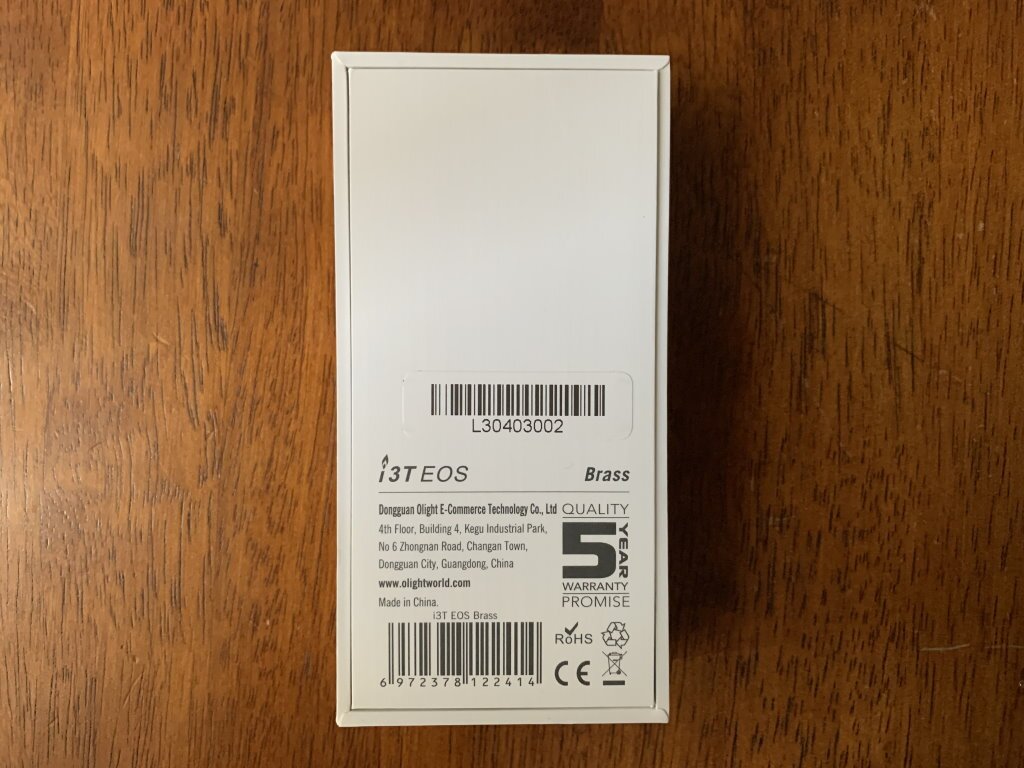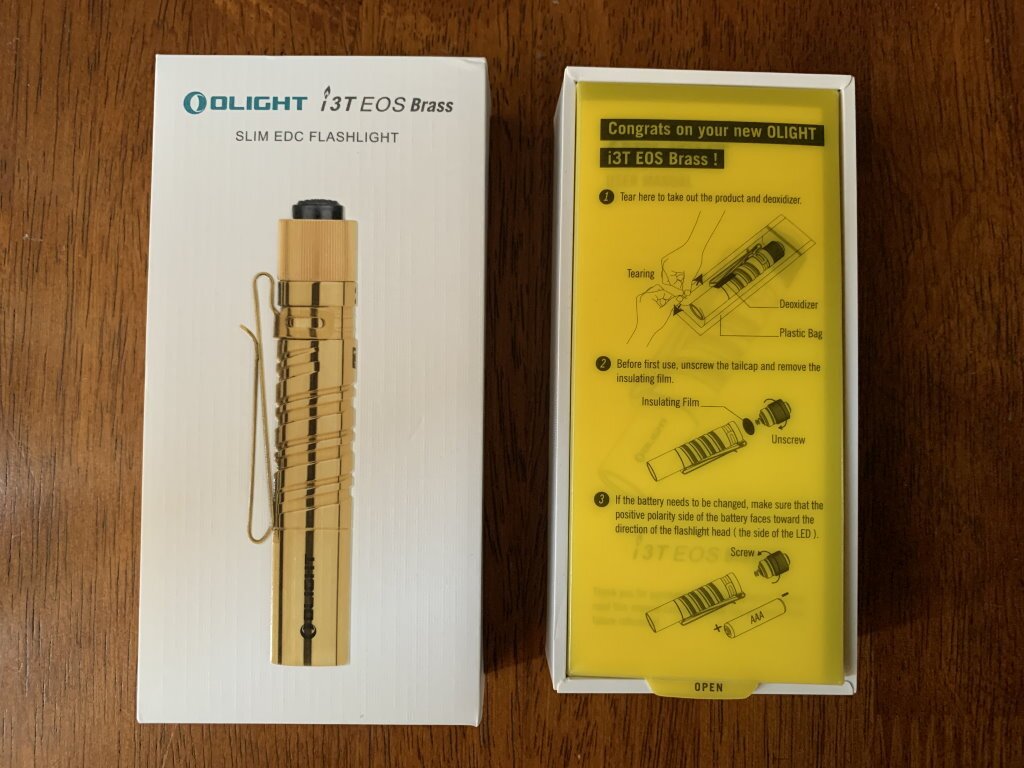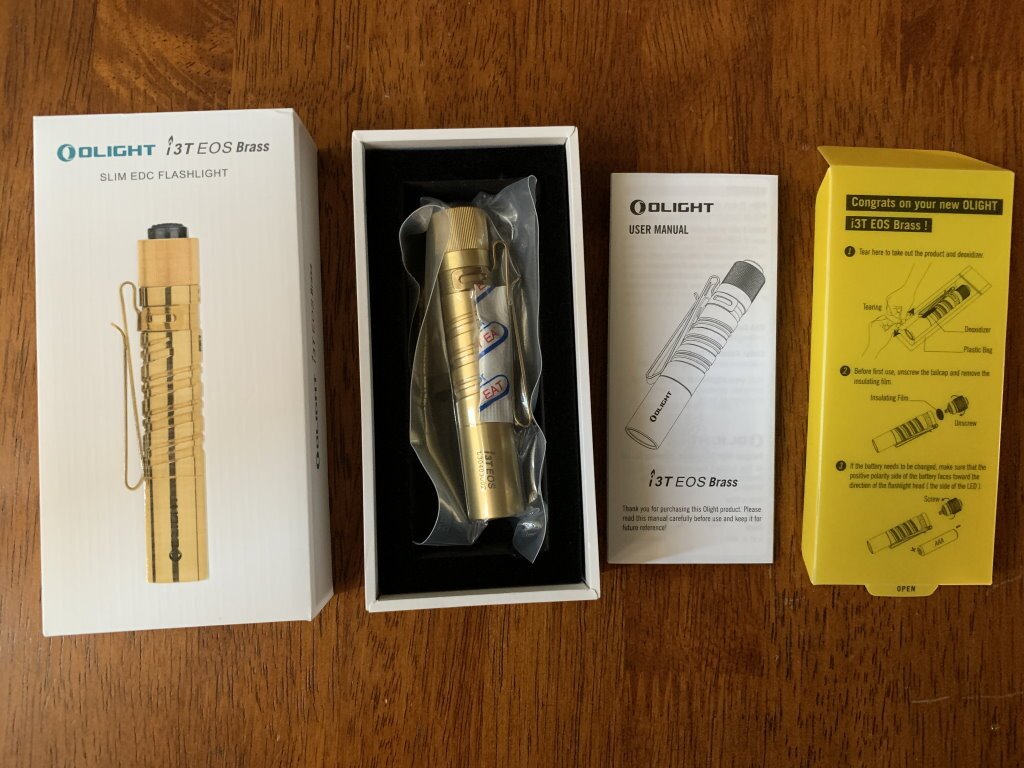 Build Quality
The flashlight body has a excellent machining and a good finish, not too shiny, but more of a matte brushed appearance. It feels nice and comfortable to hold, and is of a good size for EDC. Due to the brass material, this is heavier compared to the standard aluminum version.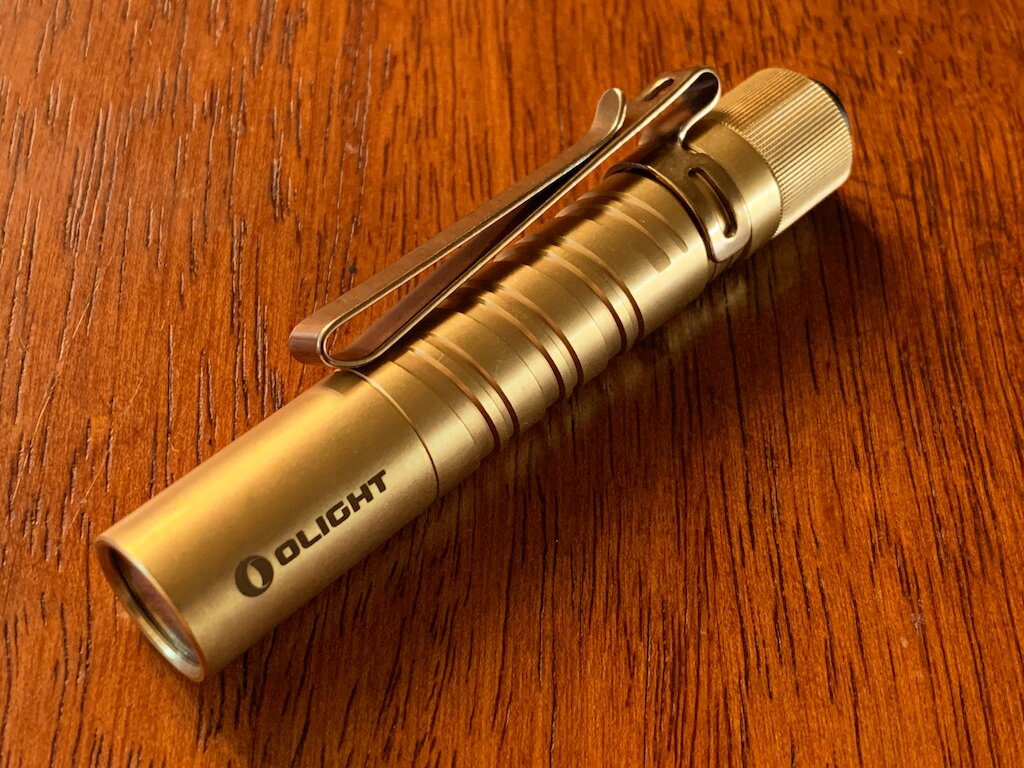 The double helix knurling is unique to certain models of Olight flashlights. This design is less aggressive and gives the light a unique look. It provides a good grip even when the flashlight is used with wet hands or while wearing gloves. This also has less chance of tearing or wearing out your clothes whenever the light is clipped in your pockets.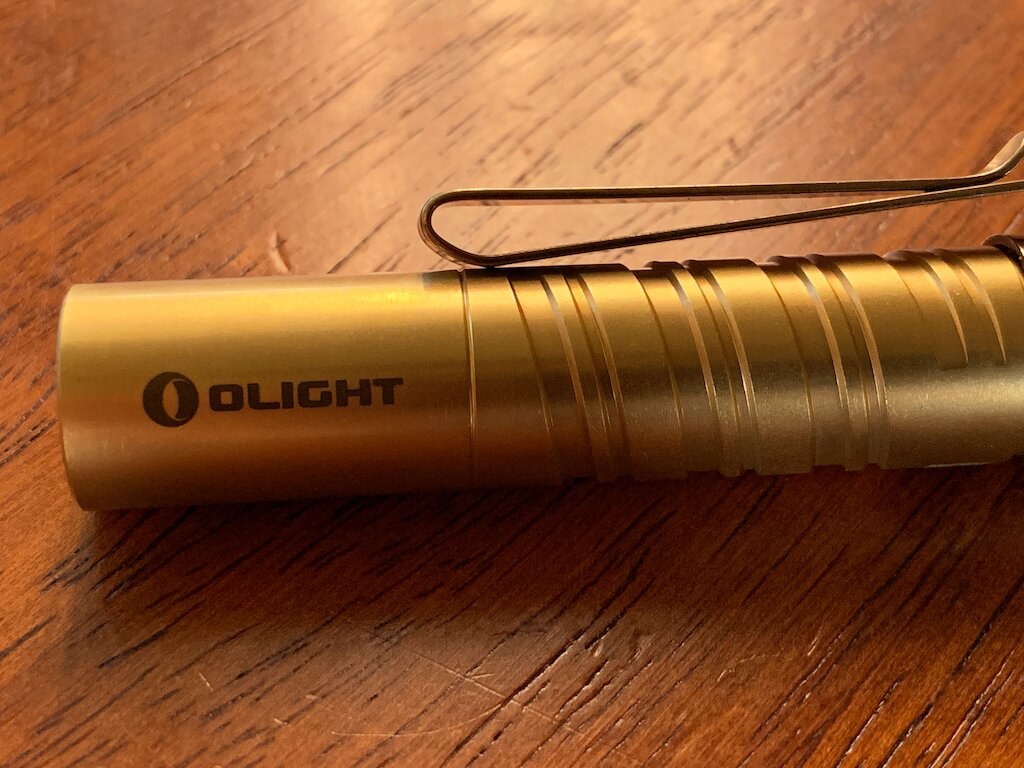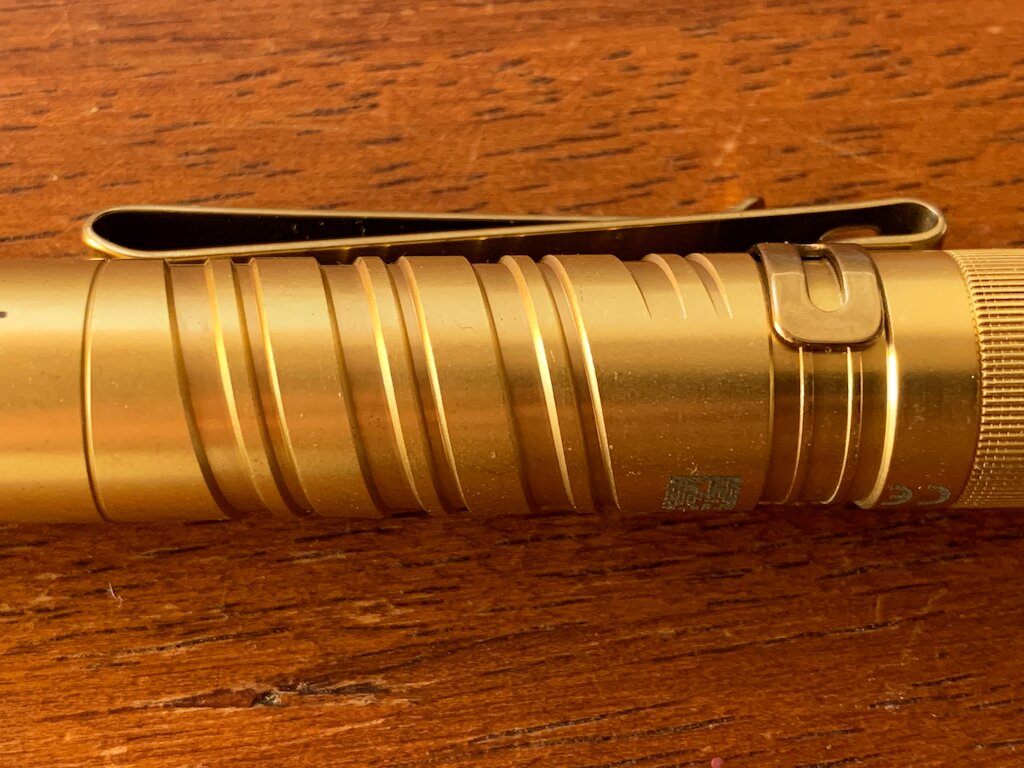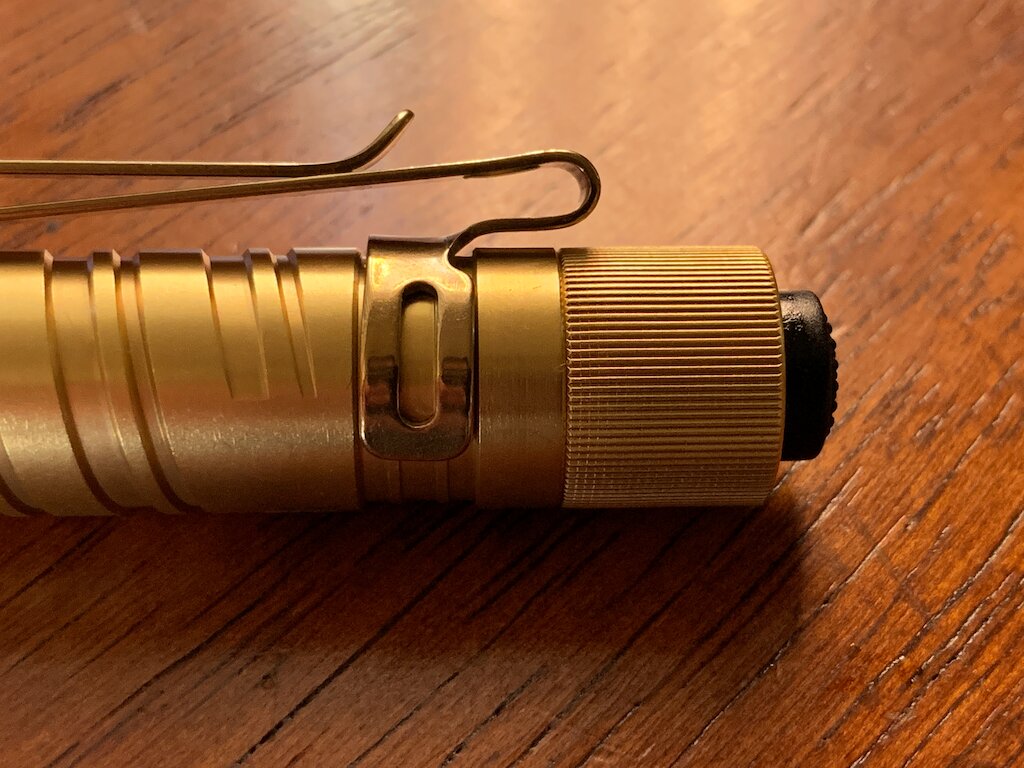 The flashlight is a tail switch operated. The rubber tail switch protudes out on the end, which means that this flashlight cannot tail stand. The switch is made from a good quality rubber.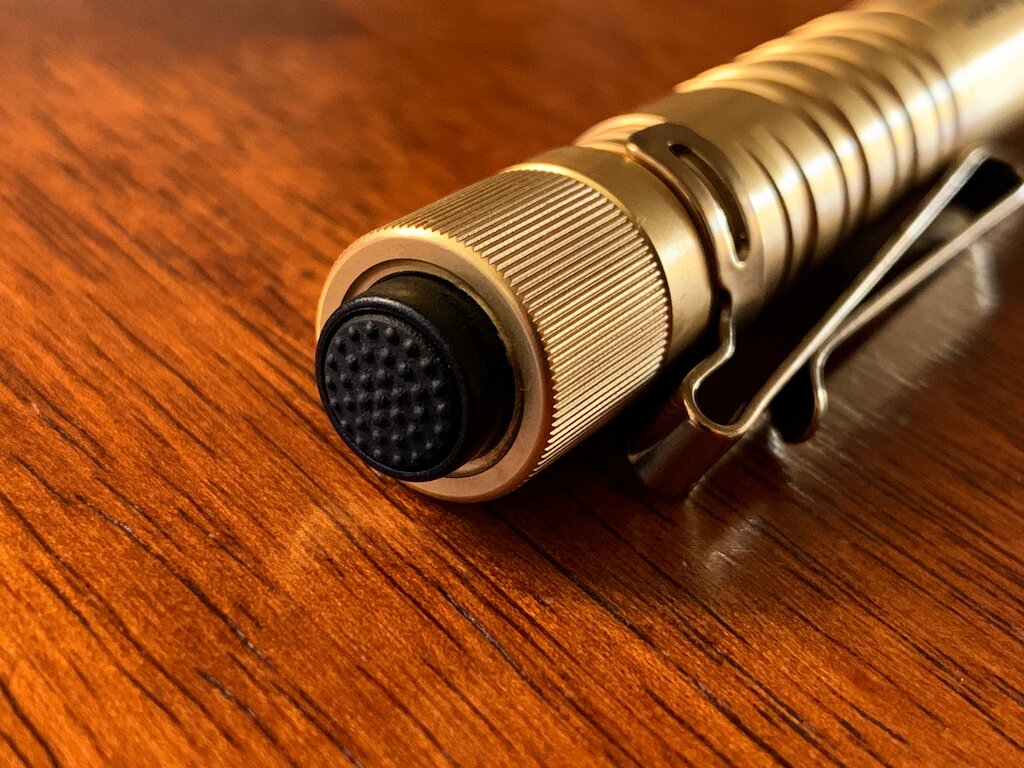 The tailcap is easy to remove thanks to the ridges, which makes battery changes easier. This is the only removable part of the flashlight, unlike other flashlights, the head is permanently attached to the body. Removing the tailcap is the only way to access the battery compartment.
Inside the tailcap is a threaded brass insert with smooth and clean square cut threads. There is also a well lubricated O-ring that provides good seal which protects the flashlight from the elements.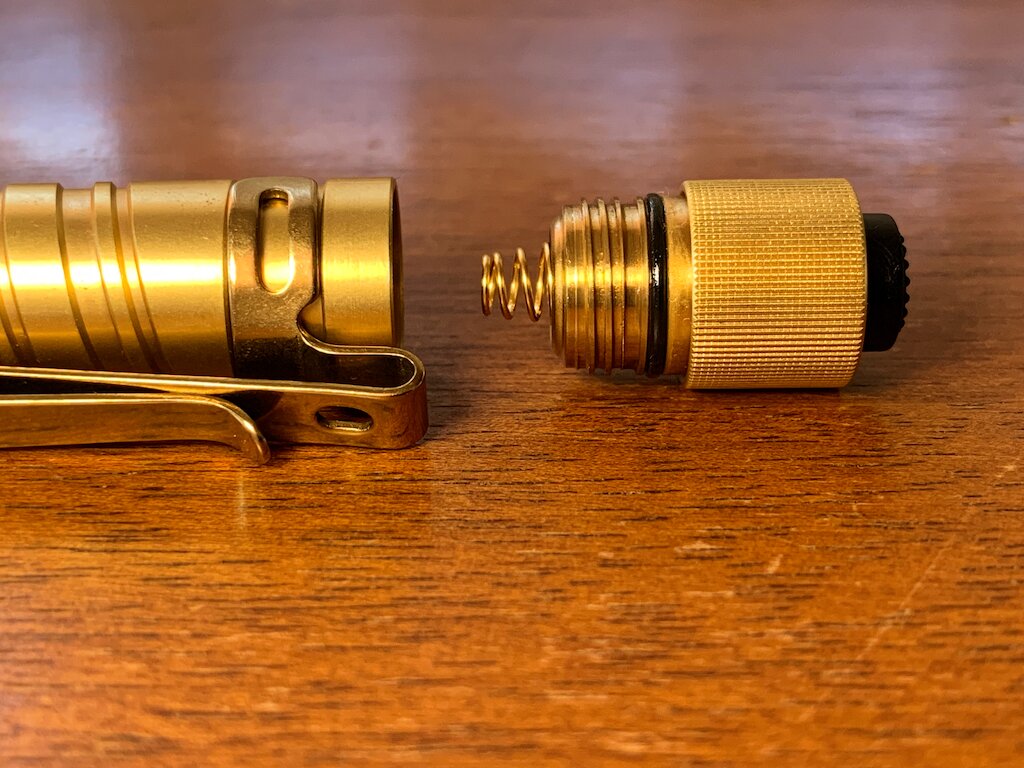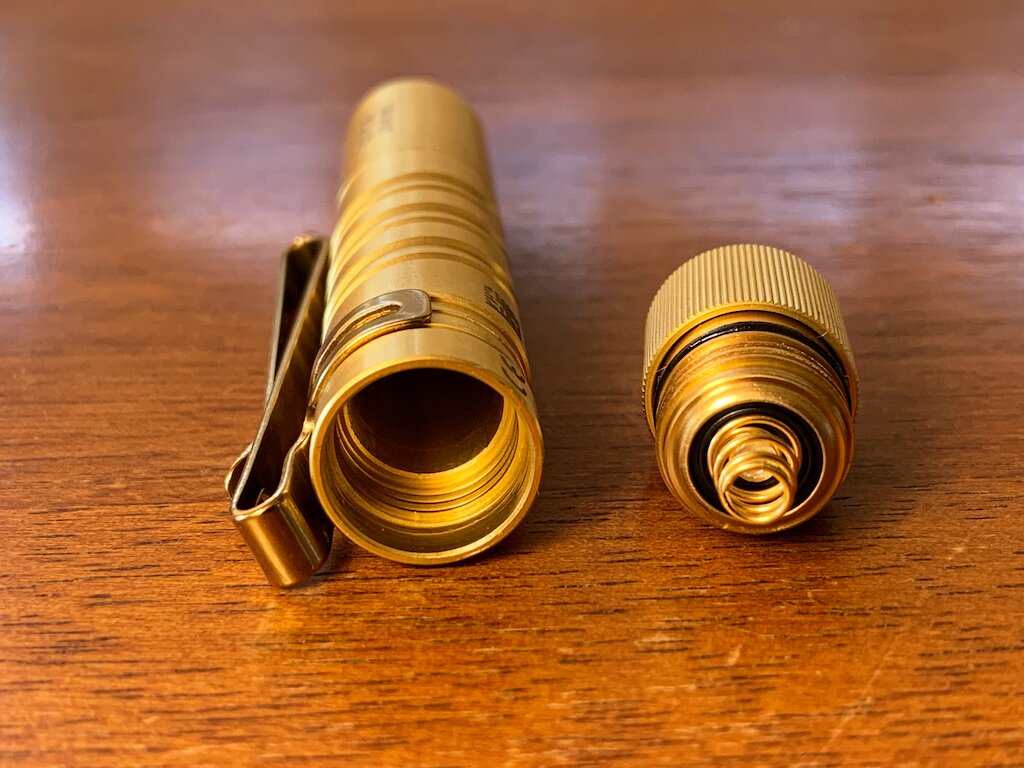 Handling
It is good that the flashlight comes with a similar color removable pocket clip. The clip attaches well to the flashlight body, and it is quite difficult to remove.
The pocket clip is an S-type or dual-direction, which means that it allows users the option of clipping the light in two different orientations. Clip the light in a pocket, or use the brim of a hat, or attach it to a bag strap. There is a lanyard hole on the top of the clip, should you wish to attach one (note that there a lanyard is not included in the package).
LED/Runtime
Olight i3T uses a Philips Luxeon TX LED with a cool white tint and a TIR reflector. Tint has a more slightly warmer characteristic despite it being cool white. The TIR lens which gives a nice smooth beam with no hotspot. This makes the flashlight ideal for closeup work and for outdoor use.
The flashlight has two modes which puts out 5 lumens on low and 180 lumens on high. It a rated runtime of 21 minutes using the maximum output and up to 16 hours on the low setting.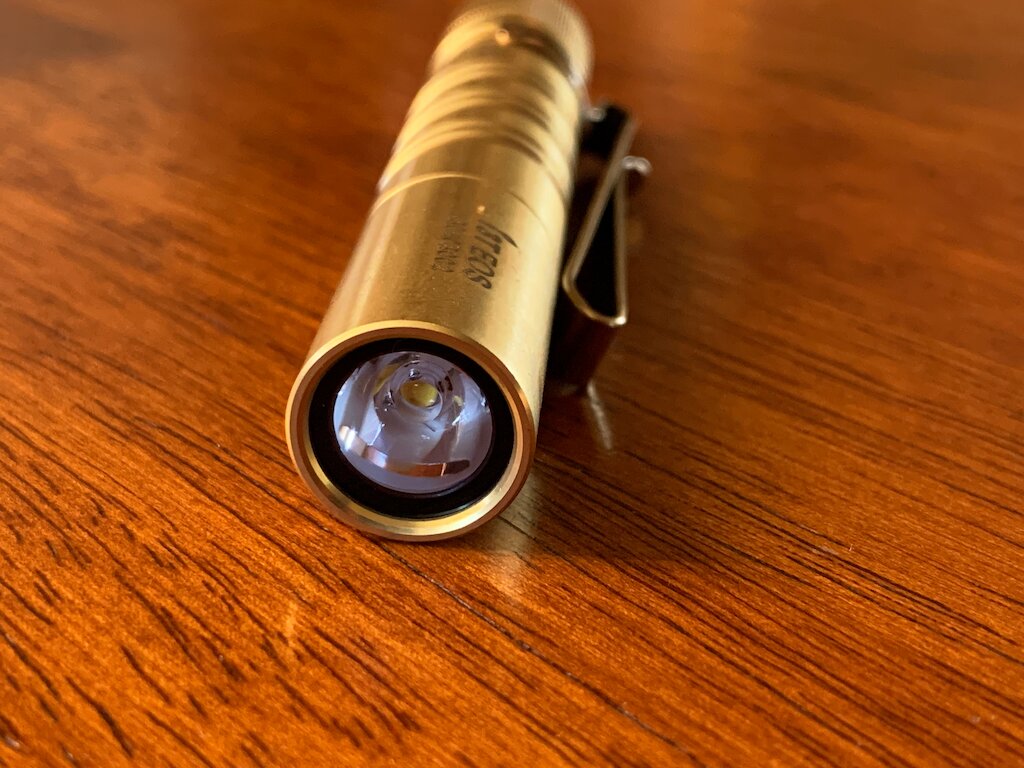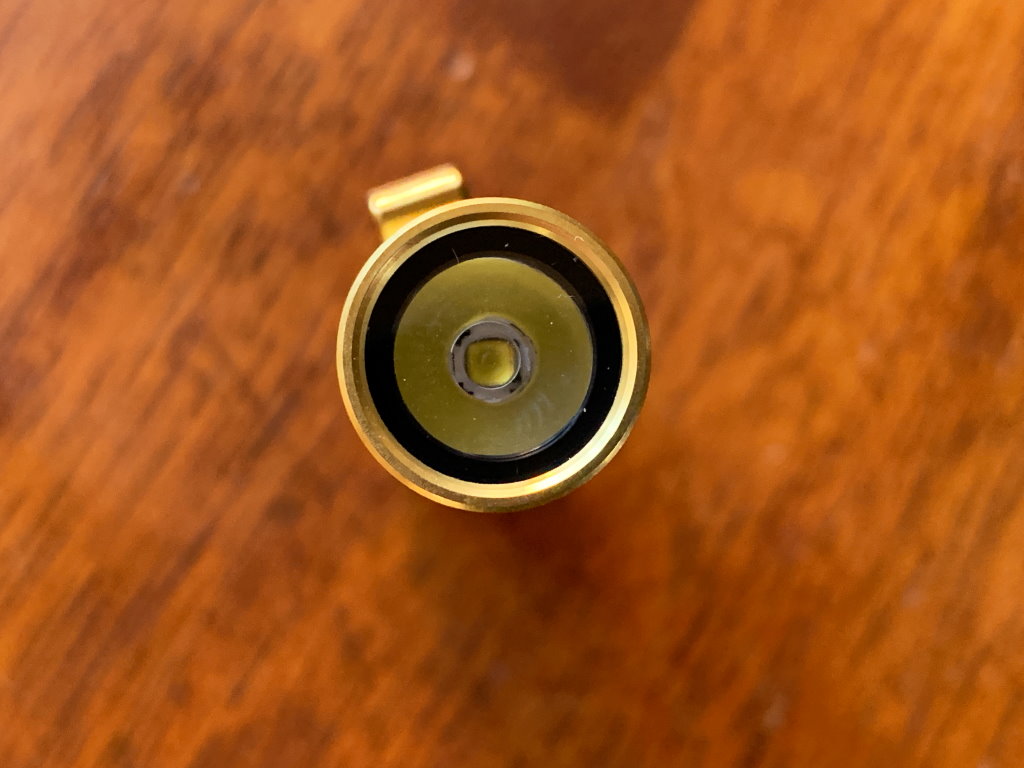 Operation/User Interface
The user interface of the flashlight is quite simple. The flashlight switch is clicky and supports momentary on. A light push of the button turns the flashlight on, using the lowest mode first. Another short press changes the mode to high. Fully press the switch until it clicks for constant on. The clicks are very audible and you will hear it twice. When fully pressed and deactivating the switch.
There are no mode memory, and no special modes like strobe or SOS.
Battery
Olight i3T EOS uses a single 1.5v AAA battery. The user manual recommends using only alkaline or NiMH batteries. Using a 10440 Lithium-ion battery is possible but not recommended as there is no low voltage protection. Be safe, and you may void your warranty if you use anything other than the recommended cell.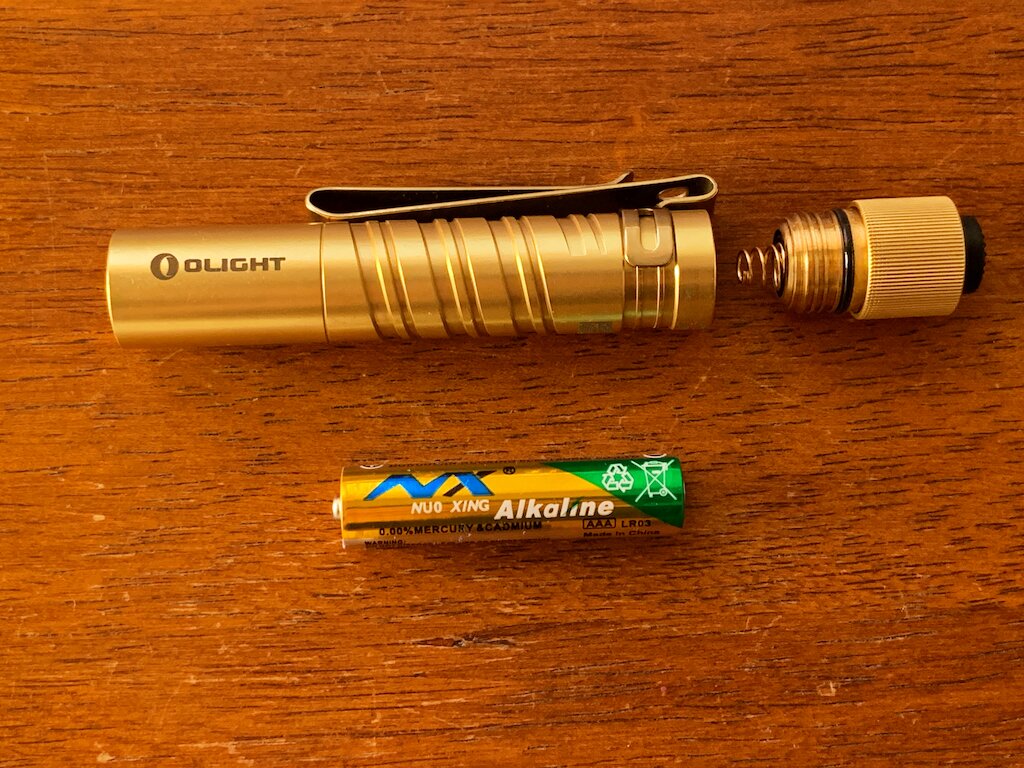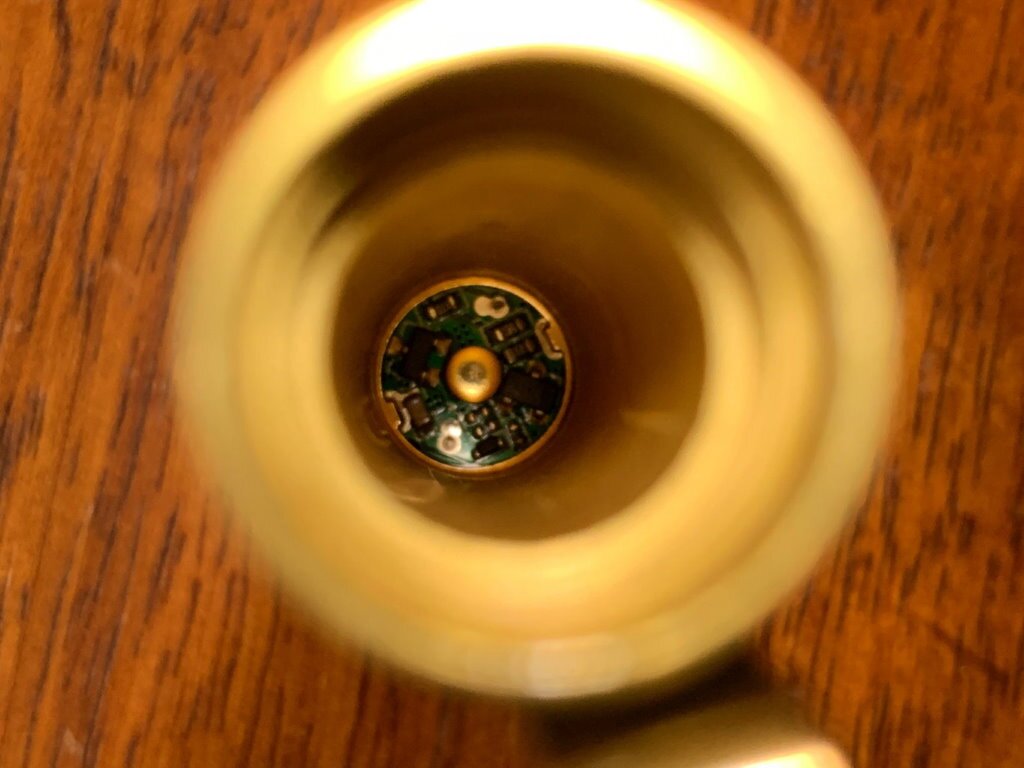 Likes and Dislikes
Pros:
Well built
TIR optic reflector
Simple 2 mode UI
Cons:
Cool white emitter only
Does not officially support 10440
Lacking throw
Olight i3T EOS Brass: Final Thoughts
Olight i3T Brass is a great addition to Olight's flashlight offerings. This Olight AAA flashlight is simple to use with no complicated user interface. It has a well balanced form factor and fits the hand well. Due to its design, it works best as a small and compact handheld everyday carry flashlight, and not intended to be a keychain light.
I would say that this flashlight is quite useful for EDC. The brass body feels solid and has a good weight. I know this will develop a unique look over time as the brass finish oxidizes.
The light output is great, LED has a good warmish tint, and a good combination of flood and throw. Olight i3T Limited Edition Brass works great as a backup light, with its useful modes, easy to find switch, and versatile pocket clip. Olight i3T Limited Edition Brass is a good option for those looking for a more unique material for their EDC.
---
Read more