As there are different types of knives, and knife blades, there are also different variety of knife handle materials. Knife handles or knife scales is one of the most important components of a knife. The best knife handle material is not only meant to look good, but also has a functional purpose. A good knife handle allows to you have a good grip, and better control of the knife while in use. It also makes the knife safer to use and more comfortable to hold. Who doesn't want that in a tool?
There are different types of knife handles each with their own advantages and drawbacks. Here are some of the most common knife handle materials that you will find in the most popular knives today.
Types of Knife Handle Materials
Knife handle materias are classified into three major types. They are made of metal, synthetic, or natural materials. When looking for a knife, there are the three major materials that you will find in the knife handles. Whether you are choosing a tactical knife, everyday carry knife, or outdoors knife, knowing which one to choose is important. Knife handle designs vary and the material used will help you accomplish whatever tasks you need with ease. The knife handle shape aids in comfort and grip, but ultimately it will be the handle material that defines how a knife looks and performs when used.
Knife Handles and Knife Scales
A knife handle is the part where you hold the knife. For fixed blade knifes, this is where the tang is located.  A knife scale are two pieces of material placed on either side of a knife handle. These are thin flat plates that covers the handle to improve its appearance and make it more comfortable to use. Knife scales are part of the handle and are essentially the same.
---
Metals

Stainless Steel
Stainless steel is an excellent material for knife handles. It has great durability and corrosion resistance and will not easily deform or scratch compared to other metals.
Though stainless steel is known for its strength, this also means that is is heavier compared to aluminum or titanium. For everyday carry knives, lightweight materials are typically preferred, so there are those who steer clear of knives with stainless steel handles.
Be aware that even though stainless steel is corrosion resistant, it still can rust under certain conditions. So proper care and maintenance is still a must to keep it in good shape. Knife handles made from stainless steel are typically slippery when wet. So knife makers usually add some pattern design or etching to aid in grip.
---

Aluminum
Aluminum is a popular metal for knife handles. It is inexpensive, strong and also corrosion resistant. Unlike steel, aluminum knife handles are lightweight which makes it a better option for everyday carry knives.
The cons of aluminum is that it is a softer metal and can be prone to scratches and dents. It is also slippery so it is best to have a textured finish for a good grip.
It is possible to have different colors of aluminum scales by anodizing the material. This is great if you want to have a knife that matches your EDC color theme.
---

Titanium
Titanium is a popular option for knife handles. It is a lightweight metal alloy that is strong, durable, and won't rust. Titanium is a more expensive to manufacture compared to aluminum or stainless steel, so it is typically found on higher end knives.
Most premium knife manufacturers use titanium in the handles or part of the locking mechanism due to its springy nature. It is often used as coating on blades to add toughness. Just like aluminum, it can also be anodized so it is possible to have different color options.
Titanium has a warmer feel, so knife handles made with it are very comfortable to use during winter. It doesn't feel as cold unlike other metals. Note that titanium may be strong and a durable knife scale material, but it is more prone to scratches compared to stainless steel.
---
Synthetic

Carbon Fiber
Carbon fiber is generally made by weaving strands of carbon and set into resin. This creates a super strong, lightweight, and flexible polymer material. It may be strong, but brittle like most synthetic materials. It will break when stressed or subjected to sharp impacts.
Carbon fiber is popular in a variety of industries like aircraft, automotive, and even luxury goods. When it comes to knives, only mid or high end knives use carbon fiber due to its cost. This is one of the best knife handle scales when it comes to everyday carry knives.
---

Micarta
Micarta is a strong and durable material commonly used in fixed blade knives or survival knives. To  make it consists of pressing pieces of organic material like paper, linen, canvas, fabric in resin. The end result is a laminate that is very strong and lightweight.
Micarta by itself is naturally smooth and must be further worked on to have a unique look and texture. This results in a perfect knife handle well suited for hard use. Micarta scales are pretty common in EDC knives and commonly found in affordable blades.
---

G-10
G-10 is one of the most popular handle material for knives. Similar to Micarta, G-10 is also a type of laminate material. Producing G-10 requires compressing layers of fiberglass, soaked in resin. G-10 has the same characteristics as carbon fiber but less expensive compared to it.
It is extremely durable, lightweight, and has good hardness. It is one of the strongest fiberglass resin laminates and considered stronger than Micarta. The laminating process can use different colors so the knife handles can have a unique style. G-10 handle is very grippy even when wet or greasy which makes one of the best knife handle material.
---

FRN (Zytel)
FRN or Fiberglass Reinforced Nylon (FRN) is a man-made synthetic material and an excellent material for use in knife scales. Zytel is a type of FRN and made by DuPont. This thermoplastic material is good for knife handles due to its strength, heat resistance, and abrasion resistant properties. It is very practical and indestructible.
FRN is relatively easy to work with and making different sizes and shapes during the manufacturing process is easy to do which makes it very cheap. Due to its low cost, flexibility,  durability, it is common to find this material used in a lot of the best performing knives in the market. You will find that major knife makers like Spyderco or Benchmade use this in their blades.
---
Natural

Bone
Bone is an excellent natural material for knife handles. Traditionally used for a long time for this purpose as it is readily available and easy to makbe. You can find bone knife handles in small pocket knives or even fixed blades. Carving this hard and porous material which results in beatiful designs and good texture for better grip. This material can include antlers, horn, or tusks.
There are a large range of options for bone handles as it is a cheap and easily available. Apart from bone, antlers, horns, or tusks is also a good material for knife scales.
Bone handles are relatively durable, but due to its porousness, it may be prone to drying and cracking. This makes it less ideal for hard use as requires additional care.
---

Wood
Wood is another inexpensive material for knife handles. It is the most popular handle material for knives. Knife handles made of wood are durable, attractive, and comfortable to use. Wood is easy to shape and carve and stands up well to hard use when properly cared for.
There are a large range of options when it comes to wood handles. Wood for knife handles come in two varieties,  hardwood and softwood. If you are often using your knifes in wet conditions better choose a handle made with hardwood. Softwood is not good for humid environments as it is prone to warping or cracking. In these environment it is better to use stabilized wood. Stabilized wood is what you get with reinforcing wood with polymer resin for additional strength and water resistance.
Common types of wood knife handle materials are cocobolo, walnut, hickory, maple, birch, and red oak.
---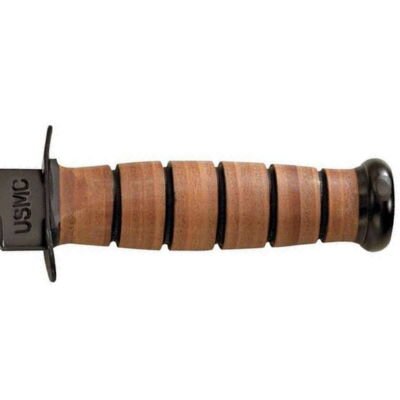 Leather
Leather is also a traditional knife handle material though it is not as popular as others. We mostly see leather knife handles on fixed blade military or hunting knives.
These kinds of knives typically have leather tightly wrapped around a knife handle. Other methods of production involves compressed leather washers stacked and glued together on the knife tang to form a handle. When properly done, they are attractive, functional, and very comfortable to use.
Knife handles made from leather require extra care and regular maintenance as they are not that durable compared to other materials. It will crack over time specially when used in high moisture environments.
Final Thoughts
There are plenty of different types of knives available each with different knife handle materials. Different types of knife handle materials are suited for certain types of applications. By now, you should know more about them, and can help you decide when picking your next EDC blade.
---
Read more