We all know the importance of owning a good and reliable knife as they are useful tools. They are very practical and useful for any circumstances. Knives come in different types and varieties and generally intended to accomplish a specific task. Hence you will find knives for outdoor use, emergency response knives, combat or self-defense knives, and general utility knives. Here is where knowing the different types of knives along with their blade types comes in handy.
When designing a knife, the manufacturers decide on the most important features and its intended use. This means that each pocket knife has its own practical purpose. You need to pay attention to the blade type, handle material, size, locking and opening mechanism when getting one. You may not even realize it is important to get the knife blade type or knife blade shape right. The correct pocket blade type makes it easier to do what is needed without much effort. Do you need a decent slicer for food preparation, or something for precise work, or just a general utility knife?
Whether you are looking for a tactical knife, camping knife, or a general purpose knife for EDC, learn what the different pocket knife blade types are. Make sure you get the right type of knives to carry with you. The best knife blade shape is the one that suits your needs.
Common Knife Blade Types
Here are some of the different types of blades found on pocket knives and what they are used for. This will help you when getting your next EDC knife.
---
Straight Back/Normal Blade
Otherwise known as the standard blade shape, and as the name suggest, it has a straight back and a curving edge. This blade shape is excellent for chopping and cutting due to the large cutting surface. Knives with this blade style is typically heavier since it is possible to make the dull side thicker and stronger. Due to this you can apply more pressure on the spine using your hand or finger to make cutting easier.
---

Drop point
A very common blade style that is defined by a sloping spine or a convex cruve from the handle to the tip. The alignment of the knife tip with the center axis helps with piercing and slicing. Due to its design, drop point blade type is commonly found on hunting knives. One of the most popular knife blade types that is found on EDC knives.
---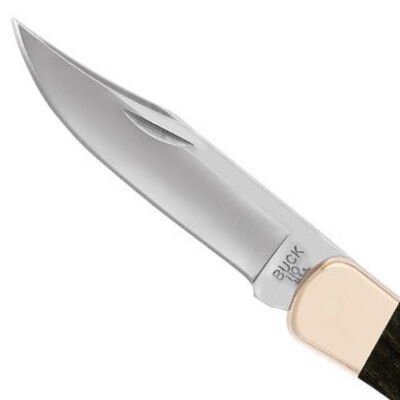 Clip point
The clip point is also another common knife blade type where the front part or the tip seems to be "clipped" off. The clipped shape is either convex or straight. Clip point blade type is particularly suited for piercing or puncturing and makes it good for precision work.
---

Spear point
Like it's namesake, the spear point blade is symmetrical with a well aligned tip to the center of the knife. It is a strong knife blade shape and knives using this blade type may either have one or both edges sharpened. You will typically find this blade type in daggers, throwing knives, or neck knives.
---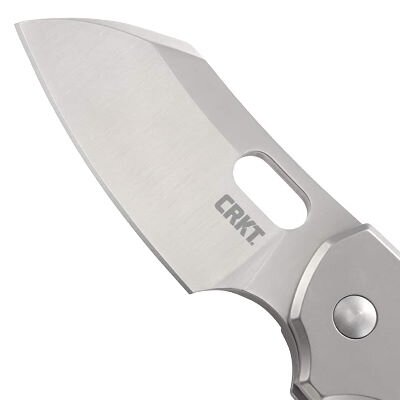 Sheepsfoot
The sheepsfoot blade is perfect for cutting and slicing due to its lack of a pointed tip. It consists of a straight edge with a spine that curves downwards meeting the blade tip. This design has the advantages of accidental stabbing and useful for tasks that prioritizes safe use. Sheepsfoot blade is commonly used by first responders in rescue knives and sailors where the blunt tip has its advantages.
---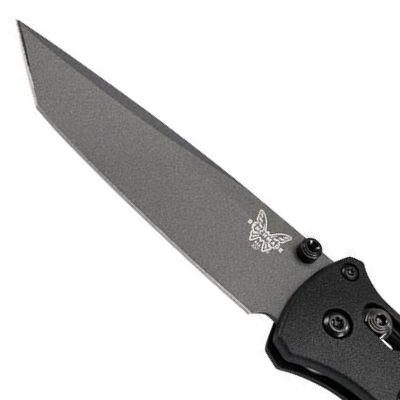 Tanto
Tanto point blades has similarities to the traditional Japanese swords worn by the Samurai in Japan. The tanto blade shape has a straight spine with an angular shape towards the tip rather than a curved belly. This results very strong point good for piercing but sacrificing slicing ability. Tanto point blades are commonly found in tactical knives where a strong tip that penetrates tough materials well is desired.
---

Reverse Tanto
It has similarities to the tanto point, but this is a modern blade shape popularized by Warren Osborne with his Benchmade 940 series of knives. The blade shape has a straight spine that angles down to the point. This makes the knife have a decent belly good for cutting and a blade tip that has a good amount of steel behind it. Due to this, the knife tip becomes strong enough to pierce tough materials. Reverse tanto blades is considered a perfect shape for everday carry knives.
---

Wharncliffe
Wharncliffe blades appears similar to a sheepsfoot blade, as they both have a straight cutting edge and curved spine. But compared to it, the blade's spine downward curve is more gradual and starts near the knife's handle. It is also a good utility blade design as it is made for tip cutting or slashing and capable of making precise cuts. Traditionally used by sailors as the tip shape prevents accidental puncturing when using the knife if the ship is hit by an errant wave.
---

Needle Point
Needle point's are typically found in daggers or stilettos. This blade profile is characterized by a symmetrical design with both edges tapering to a sharp point. The blade is long and slender and come with double-edges. This allows the knife to cut on both sides and the thin point is good at piercing. Because of this, needle point blade are often found in combat or self-defense knives.
---

Hawkbill
A curved knife blade is a unique blade style which consists of a arched spine and blade coming together to a downward point. The appearance reminds you of a talon or a claw. Hawkbill knives are very efficient for cutting, whittling, and pruning work. It is mostly used for tasks that requrires a pulling motion when cutting. Hawkbill blades are mostly found on some utility knives, camping knives, or self-defense oriented knives.
---

Spey Point
Spey point blade as the name suggests, was traditionally used for neutering (or speying) animals. This blade shape is typically straight, on both spine and the edge. The spey blade edge curves up near the tip while the spine also has a sharp angle downwards. This results in a broad tip to prevent piercing. This design is popular in Trapper knives as it is efficient in skinning animals.
---

Trailing Point
The trailing point is another curved knife blade shape that has a characteristic back edge or spine that curves upwards and usually ends higher than the handle. This results in a good slashing or slicing knife due to the larger cutting area or belly. It is usually found in hunting knives because it is useful for skinning, filleting, or food preparation. Knives with trailing point blades are useful companion for the outdoors.
---
Final Thoughts
There are many types of knives in the market with different types of blade and selecting the right one should not be difficult. Knowing the different pocket knife blade types is useful when choosing an knife as each type has its specific uses. Get a knife with the right type of blade suited for the job for your safety and to avoid any issues.
---
Read more