When choosing a small flashlight for everyday use you cannot go wrong with one that uses AA sized batteries. They are very versatile and and useful in a variety of situations. AA battery powered flashlights are more popular compared to flashlights using CR123A batteries since AA batteries are more common. An AA flashlight is typically the next type of flashlight to get after having an AAA flashlight or a keychain flashlight. There are a lot of options are available to choose from and picking the best AA flashlight should not be that difficult. We have reviewed some of the best models and our guide will help you if you are looking for a better kit for everyday carry.
For further information on getting the right flashlight, check out our guide on how to choose a flashlight for EDC.
Why Get an AA Flashlight?
One of the first questions that  you may have is why get an AA flashlight? There are other far more powerful flashlights that uses a higher capacity battery. From the ones that uses CR123A, or 18650 batteries, which are more powerful than double A size. One thing to remember is that a AA battery is readily available, and not that expensive. You may choose from a regular alkaline cell, or rechargeable NiMH (even lithium-ion). This means that where ever you go it will be easy to get something to power your flashlight. An AA flashlight makes an excellent backup light, even as a primary flashlight for EDC.
How to Choose an AA Flashlight
Most modern flashlights uses a Cree LED. Cree flashlights that use AA sized batteries are the preferred primary flashlight for EDC. Between small keychain sized flashlights that uses AAA batteries, and larger flashlights, it is the better choice. Flashlights using AA batteries fall into the general purpose category where it is the main go-to flashlight capable of better output and longer run-times. They are still pocket-able even though bigger in size. And just like AAA batteries, AA are readily available. You can use regular Alkaline battery, or use rechargeable NiMH and 14500 Lithium battery. High lumen flashlight use 14500 battery for best performance.
Purpose
What is the primary use of the flashlight? Knowing where and how the flashlight will be used will help in deciding the features that are a must have. Some flashlights are ideal for indoor use, and some are best for outdoors. Best outdoor AA flashlights are those that can output more lumens compared to those that are used indoors.
Size
Flashlights using AA batteries are still pocket friendly. They are bigger than AAA sized ones but are compact enough to fit in the pockets or bag.
Brightness
An AA LED flashlight with an output 50-200 lumens is bright enough for basic household or outdoor use. Anything higher is considered a high power flashlight and ideal if necessary for the work place or for recreational activities like camping, fishing, hiking and the like.
Material
You should at least look for flashlights made from high-grade aluminium. They can also be made from other materials like brass, copper, or titanium. Any of these materials are good for an AA LED flashlight for everyday use.
---
We have checked out some of the best flashlights using AAA batteries available in the market and listed them below. The best choice for an all purpose flashlight is ThruNite Archer 1A V3 NW. If you are looking for a more powerful option when using an AA NiMH rechargeable check out Olight I5T. For a bright AA LED flashlight, check out SKILHUNT M150 V2.
AA Flashlight
Specifications
ThorFire TG06S

Modes: 4 + strobe
Output (lumes)/runtime: 1 (72 hrs), 500 (55 mins) on 14500.
1 (120 hrs), 150 (1 hr) on AA.
Weight: 45.3g
Distance: 100 meters
Tail operated
SKILHUNT M150 V2

Modes: 8 - split between two groups
Output (lumens)/runtime: (0.2 50 days), 1.5 (100 hr), 15 (25 hr), 60 (7 hr), 170 (1.5 hr), 340 (30 min), 480 (3 min), 750 (1 min).
Weight: 34g
Distance: 110 meters
Side switch
Fenix LD12 2017 Edition

Modes: 4 + strobe
Output (lumens)/runtime:
14500: 5 (50 hrs), 320 (1 hr)
NiMH: 5 (60 hrs), 150 (1 hr 45 mins)
AAA: 5 (40 hrs). 150 (50 mins)
Weight: 58g
Distance: 135 meters
Tail switch for on/off
Side switch to change modes
ThruNite Archer 1A V3 NW

Modes: 5 (including strobe)
Output (lumens)/runtime: 0.1 (17 days), 200 (1.25 hrs).
Weight: 42g
Distance: 66 meters
Tail switch for on/off
Side switch to change modes
Olight I5T

Modes: 2
Output (lumens)/runtime: 15, 300
Weight: 60g
Distance: 60 meters
Tail operated
Klarus Mi7 Ti
Modes: 5 (including strobe and SOS)
Output (lumens)/runtime: 5 (67 hrs), 700 (53 mins) on 14500.
5 (40 hrs), 330 (55 mins) on AA.
Weight: 40g
Distance: 110 meters
Side switch
Streamlight ProTac 1L-1AA

Modes: 2 + strobe
Output (lumens)/runtime:
CR123A: 40 (14 hrs), 350 (1.5 hrs)
AA: 40 (7.5 hrs), 150 (4.25 hrs)
AA Lithium: 40 (14 hrs), 150 (4,25 hrs)
Weight: 79.38 grams
Distance: 160 meters
Tail operated
Manker E11

4 + strobe/SOS/beacon
Output (lumens)/runtime:
10 (44 hrs), 800 (45 mins) on 14500.
2 (171 hrs), 400 (1.2 hrs) on AA.
Weight: 39g
Distance: 100 meters
Side switch
Manker T01 II

Modes: 2 (general and pro).
Each mode has
4 brightness levels + strobe/SOS/beacon
Output (lumens)/runtime:
general mode:
AA: 2 lumens (150 hrs) low, 500 lumens (1 hr) high
14500: 1 lumen (150 hrs) low, 900 lumens (1 hr) high.

pro mode using AAA:
L: 2, 7, 10 lumens
M: 40, 60, 80 lumens
H: 160, 200, 220 lumens
T: 330, 400, 500 lumens

pro mode using 14500:
L: 1, 10, 16 lumens
M: 85, 100, 120 lumens
H: 280, 320, 400 lumens
T: 620, 750, 900 lumens
Weight: 55g
Distance: 282 meters
Side switch
Mini Maglite PRO+

Modes: 2
Output (lumens)/runtime: 61 (27 hrs), 245 (2.25 hrs).
Weight: 117.75 grams
Distance: 181 meters
Twist operated
The Best AA Flashlights for EDC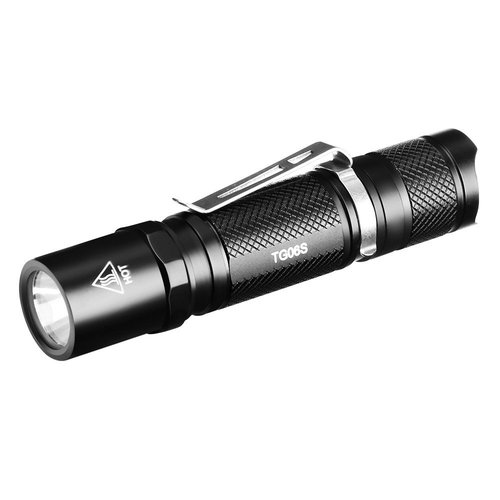 ThorFire TG06S AA Flashlight
ThorFire TG06S AA LED flashlight is the upgraded version of the TG06 flashlight. It is ThorFire's flagship 1xAA/14500 flashlight. Uses a single Cree XP-G2 LED housed in a polished reflector. It gives out a maximum of 500 lumens when using a 14500 battery. There are five modes, Moonlight-Low-Mid-High plus a hidden strobe function.
The body is made from a durable aircraft grade aluminum alloy. A hex cut ring at the base of the head prevents the flashlight from rolling off when placed on a flat surface. Textured knurling patterns are on the midsection and tail which helps with grip.
There is an included pocket clip which can be attached to the head or tail section so that the flashlight can be carried in different methods. The tail end of the flashlight has the switch and it is designed in a way that makes it possible to tail stand the flashlight.
The switch is a standard reverse-click and it is also used to change the modes. The flashlight has no mode memory. It always starts on High, then goes to Medium, Low, Moonlight. Double clicking the tail switch activates the hidden strobe.
ThorFire TG06S can use common AA batteries (Alkaline or NiMH) and can also use a Lithium-Ion 14500 battery. Using a 14500 battery is recommended to get the maximum brightness.
---
SKILHUNT M150 V2 High CRI
SKILHUNT M150 V2 is a traditional single AA compact flashlight. It has a CREE XP-L2 High CRI (90 CRI) LED which outputs a maximum of 750 lumens when using a 14500 battery. This flashlight features two control modes for operating the light. The flashlight is able to use any type of AA sized battery, whether it is alkaline, NiMH, Lithium, or Li-ion. The USB charging only works for a 14500 battery, and not for a NiMH rechargeable.
The body is a rugged and indestructible aluminum body with anti-scratching type III hard anodization. Its contructed to have good heat dissapation and high thermal conductivity. This ensure the light will not overheat quickly while in use. The flashlight has o-ring seals that keeps the flashlight waterproof to IPX-8 standards. The easy to find side switch operates the light and changes the mode.
Overall SKILHUNT M150 is a small, lightweight, and affordable flashlight. Its high power and USB magnetic charging makes it very convenient to use.
---
Fenix LD12 2017 Edition AA Flashlight
Fenix LD12 is another flaslight from Fenix with basic design and features. This is the new 2017 edition with a new side switch design and 14500 battery support. The flashlight uses a Cree XP-G2 R5 LED with a neutral white color rendering. The flashlight is capable of emitting max of 320 lumens when using a 14500 battery. When using regular AAA (Alkaline or NiMH), it only outputs 150 lumens on high.
The flashlight has a dual switch. The tail switch activates the light while the side switch is for changing the modes. Fenix LD12 has four modes, low-medium-high-turbo, plus a hidden strobe feature. The flashlight remembers the last mode used and will use that mode when turning the light on. It has a non-reversible pocket clip attached to the tail.
Fenix LD12 is a well made flashlight with a decent set of features which makes it an excellent everyday carry light.
---
ThruNite Archer 1A V3 AA Flashlight
ThruNite Archer 1A V3 is an upgraded version of the Archer 1A V2 with a better user interface. The flashlight has a Cree XP-L emitter and can use either a AAA or a 14500 battery. Maximum brightess level is at 200 lumens. You can select between two models with a cool white or a neutral white LED.
It has an aircraft grade hard anodized aluminum body with diamond pattern knurling in the middle and tail end of the flashlight. There are two switches, one on the side for changing modes, and the other on the tail to activate the light.
There are five different modes, firefly-low-medium-high-strobe. Memory function is available which uses the last mode used when on (except strobe). A reversible pocket clip and strike bezel at the head is available.
A good value flashlight with useful features makes this one of the must have flashlight. The firefly mode on the flashlight is very useful for close up work when brightness is not ideal. Get one using the link below.
---
Olight I5T AA Flashlight
Olight makes the best flashlights in the market and Olight I5T is one of their popular pocket flashlight models. A high performace cool white LED with a TIR optic lens enables it to deliver up to 300 lumens. It can use both AA size Alkaline or NiMH batteries. The flashlight has two modes, high at 300 lumens which drops to 150 lumens after 3 minutes, then 30 lumens after 25 minutes. The low mode outputs 15 lumens for a maximum duration of 20 hours.
This is a very compact flashlight at only 3.74 inches in length. Body has a good quality anodizing with double helix knurling for better grip. There is a non-reversible dual-direction pocket clip that can be removed if desired.
It has a single rubber covered tail switch used for turning the light on or changing modes. When the light is off, clicking the tail switch turns the light on in low mode. Tap it once for momentary on, or double click the switch to go to high mode. Get the Olight I5T  if you need a flashlight that has an excellent built quality and simple to use.
---
Klarus Mi7 Ti AA Flashlight
Klarus Mi7 Titanium features a Cree XP-L HI V3 LED with a max output of 700 lumens when using a 14500 battery. A regular AA cell can also be with a maximum output of 300 lumens. Excellent performance for a compact flashlight.
The flashlight is made from TC4 Titanium alloy which is corrosion and scratch resistant. The stainless steel side switch controls flashlight operation and changing modes. There are three modes, moonlight-low-high, and also strobe and SOS. The flashlight has operational differences compared to others.  It directly goes to high mode (additional click goes to low), moonlight mode, or strobe/SOS, depending on how you press the switch. It is also capable of telling the remaining battery capacity by clicking on the switch.
Klarus Mi7 Ti is a small, compact flashlight with good performance. Certainly the premium flashlight for EDC. Klarus Mi7 non-Ti model is also available.
---
Streamlight ProTac 1L-1AA AA Flashlight
Streamlight ProTac 1L-1AA is the newest addition to the ProTac family. It is possible to use one CR123A or AAA battery without using any adapter to power the flashlight. Inside the flashlight body is a spring that compresses or expands when using an AA battery. It uses C4 LED technology that produces 350 lumens max when using a CR123A battery. On an AA cell it emits 150 lumens max.
Multi-function tail switch operates the flashlight and changes the mode. The AA LED flashlight has two modes, low-high, with additional strobe. Programmable using the TEN-TAP interface that provides a choice of three operating modes: high/strobe/low, high only, or low/high. It comes with a removable reversible tail cap.
Streamlight ProTac 1L-AA is small, bright, programmable, and versatile battery options (CR123A/AAA Alkaline or Lithium) makes it a good everyday carry flashlight.
---
Manker E11 AA Flashlight
Manker E11 uses a Cree XP-L LED (choice of cool white or neutral white). It can emit up to 800 lumens maximum when using a 14500 battery. It can use either an AA or an unprotected 14500 battery. This is one of the brightest rechargeable flashlight with a removable battery.
This is another compact flashlight at 3.2 inches in length. Aircraft grade hard anodized aluminum makes the flashlight body anti-abrasive and durable. The flashlight has a side switch to operate the flashlight. There are four modes, moonlight-low-medium-high, plus additional strobe, SOS and beacon function. Included is a beefy reversible tail clip.
Manker E11 is a compact and powerful 1xAA flashlight capable of putting out 800 lumens. This is one of the brightest AA flashlight in our list.
---
Manker T01 II AA Flashlight
Manker T01 II is a compact and the best throw flashlight that uses an AA/14500 battery. The Cree XP-L HI LED can emit 900 lumens maximum output with a maximum beam distance of 282 meters/925 feet when using a 14500 battery. Cool white or neutral white are available tint options.
The flashlight is fairly small at 3.3 inches in length but with a large head diameter to accommodate the large reflector. The erospace grade aluminum body with HA III MIL-Standard hard anodized finish adds to its durability.
The switch is located on the side for turning the flashlight on or changing modes. There are two operating modes, general and pro. Each mode has four brightness levels, low-medium-high-turbo, and additional strobe/SOS/beacon modes. General mode has predefined defaults whereas in the Pro mode, it is possible to select additional output levels. The flashlight comes with a reversible tail clip.
If  pocket sized best throw flashlight are your thing, you should check out Manker T01 II . It also has the highest lumen AA flashlight in our list. Great for outdoors, trekking, fishing, and camping.
---
Mini Maglite PRO+ AA Flashlight
Popular, small and reliable flashlight that uses two AA batteries. Simple twist operation to turn the light on or adjust the beam from flood to spot.  It has weather resistant seals which makes it good for everyday use. Hands-free operation is possible by converting the flashlight to candle mode. It can stand on a flat surface like a candle by unscrewing the head and using it as a stand. Mini Maglite PRO+ is an old classic and is a useful tool to have in your toolbox.
---
Get the Best AA Flashlight Now
Carrying a larger and more powerful flashlight to act as a a second lighting tool is good practice. Flashlights with AA batteries are commonly paired with a smaller flashlight having AAA batteries. There are many flashlights to choose from, and the best AA flashlight must have the features that you need and be suited to your activities.
---
Read more