Flashlights are very handy tools and should be one of the main items for your every day carry (EDC). They come in different types, sizes, and features so it is recommended that you should have more than one. It is best to be always prepared so it is important to have a small flashlight with you. Regular EDC flashlights, or tactical flashlights are typically larger, and may not fit as comfortably in the pocket compared to AA flashlights or those that use AAA cells. The best AAA flashlights are very compact and lightweight and comfortable to have in your pocket. Small AAA batteries are readily available and easy to find and you have the option of using rechargeable batteries if preferred.
Most people have smartphones and many think that using their phone as a flashlight is good enough. The flashlight function in a phone is not always ideal due to some limitations like fussy app, lack of brightness, and limited range of the light. A dedicated flashlight is better and simpler to have.
Finding a flashlight for EDC should not be difficult so read on to know why they are essential for everyday carry. If you want to learn more on getting the right flashlight, read our guide on how to choose a flashlight for EDC.
What Makes Good AAA Flashlights?
Flashlights with AAA batteries are the best flashlight for everyday carry due to its small size and weight. It can easily be attached to a keychain making it always accessible. Small flashlights are convenient to have and the preferred lighting tool for basic tasks or during emergency situations.
It is good to always have at least two lights in person with you. Keep the smaller light in your pocket so that it will be easy to reach. During emergencies or survival situation, you can use it to help you find your primary flashlight.
How to Pick a AAA Flashlight
When choosing an AAA flashlight, it is best to start your search by selecting from good quality flashlights made by reliable manufacturers. There are plenty of options to choose from, but not all of them are reliable and durable enough for daily use. Oftentimes cheap ones which use multiple LED's are not of good quality, and will tend to fail when you most need it.
Small flashlights are not only good for  home use or everyday carry. They are also ideal for hiking, hunting, camping, and other outdoor activities. A small backup light is good for reading maps, inspecting and fixing your gear, and for general lighting.
When choosing a flashlight, you need to consider the following factors.
Size
Most AAA battery flashlights are small and makes the best keyring flashlights. There will still be considerable size differences between different types. Some types of flashlights are great for your key ring. Some have a more penlight style with just a pocket clip and best for keeping it in your pocket, bag, or case.
Build and Material
Flashlights are made from different materials. Most common are aircraft grade anodized durable aluminum body, brass, copper, or titanium. Aircraft grade aluminum is typically hard anodized for additional durability. Brass and copper add to aesthetics and have anti-bacterial properties. EDC gear made from these develops a unique patina over time which is very desirable. Titanium is also a popular metal due to its toughness and being lightweight, great if you want to lessen the weight of your EDC. You will need to have a good build in order to get a water resistant or water proof light. This is very important as there are times you will use your flashlight under heavy rain.
Brightness
Lumens is the measure of brightness of a flashlight. An everyday carry illumination tool should emit a good bright light. Between 25-80 lumens is good enough for daily use. Most flashlights have multiple level of brightness. Some lights have firefly mode or moonlight mode, which is very low brightness ideal for close up work or reading and preserving night vision. Getting an extremely powerful light is nice to have but remember that lights this small will have lower run-times due to heat generated and small battery size.
Beam pattern
The flashlight beam can either be narrow, have a wide beam, or a good combination of the two. There are flashlights that have TIR optic that aim to provide a soft smooth beam with no discernible hotspot. Choose the best beam pattern depending if you want to have a long distance range or a floody beam output. A good beam of light is important when choosing the right EDC light.
Switch type
Flashlights have different types of power switch. Operating the light involves twisting the light head to turn it on/off, or have a tail switch. For AAA sized flashlights very few have side switch. Choose the type of power switch based on function. It is up to you to choose between twist or click.
Battery type
Commonly used by AAA LED flashlights are single-use alkaline battery or rechargeables. These batteries are found in grocery stores, gas stations, and most shops. Standard AAA cell type are easy to find, and there are options of using popular rechargeable batteries like NiMH or Lithium-Ion. If the flashlight supports it, you can opt for more powerful 10440 rechargeable li-ion cell. Opt for rechargeable cell type to get more hours of runtime for your light. Long battery life will depend on the amount of power the flashlight can deliver.
---
We have reviewed some of the best flashlights using AAA cells so read on below. We recommend checking out Surefire Titan Plus. If you are looking for a less expensive option but still as powerful? Check out Ultratac K18.
AAA Flashlight
Specifications
SureFire Titan Plus

Modes: 3
Output (lumens)/runtime: 15 (7 hr), 75 (2 hr), 300 (1 hr)
Weight: 58g
Distance: 66 meters
Twist operated
ThruNite Ti3

Modes: 3 + strobe
Output (lumens)/runtime: 0.04 (115 hr), 12 (6.3 hr), 120 (30 mins)
Weight: 12g
Distance: 45 meters
Twist operated
Ultratac K18

Modes: 3 + strobe
Output (lumens)/runtime: 4 (40 hr), 25 (5.7 hr), 110 (53 mins) on AAA
9 (14 hr), 80 (1.5 hr), 370 (20 mins) on 10440
Weight: 14g
Distance: 88 meters
Side switch
Lumintop Tool

Modes: 3
Output (lumens)/runtime: 5 (60 hr), 32 (4 hr), 110 (30 mins)
Weight: 15g
Distance: 47 meters
Tail operated

Olight I3T

Modes: 2
Output (lumens)/runtime: 5 (16 hr), 180 (21 mins)
Weight: 39g
Distance: 60 meters
Tail operated
Prometheus Lights Beta QRv2

Modes: 3
Output (lumens)/runtime: 1 (70 hr), 15 (3.5 hr), 80 (45 mins)
Weight: 22.6g
Distance: 30 meters
Twist operated
Fenix LD02 v2.0

Modes: 3 + UV light
Output (lumens)/runtime: 1 (75 hr), 25 (2.4 hr), 70 (40 mins)
Weight: 24g
Distance: 48 meters
Tail operated
Olight I3E
Mode: 1
Output (lumens)/runtime: 90 (1.2 hr on NiMH, 45 mins on Alkaline)
Weight: 7.9g
Distance: 44 meters
Twist operated
Fenix E05

Modes: 3
Output (lumens)/runtime: 8 (15 hr), 25 (4.25 hr), 85 (20 mins)
Weight: 11.3 grams
Distance: 45 meters
Twist operated
Manker E02 II
Modes: 4 + strobe
Output (lumens)/runtime: 5 (12 hr), 90 1.2 (hr), 220 (35 mins), 420 (30 mins) on 10440
0.1 (230 hr), 30 (5.5 hr), 90 (1.5 hr), 220-290 (1.4 hr) on AAA
Weight: 21.2g
Distance: 72 meters on 10440, 52 meters on AAA
Top switch
Foursevens Preon P1 MKIII

Modes: 6
Output (lumens)/runtime: 1 (45 hr), 15 (5 hr), 60 (1.2 hr), 100 (1 hr)
Weight: 28.34 grams
Distance: 35 meters
Tail operated
Drop AAA Brass Flashlight (Nichia 219C)
Modes: 3
Output (lumens)/runtime: 3 (36 hr), 20 (4 hr), 85 (30 mins)
Distance: 45 meters
Weight: 42.5g
Distance: 34 meters
Tail operated
Streamlight Microstream
Modes: 1
Output (lumens)/runtime: 45 (2.25 hr)
Weight: 31.2g
Distance: 41 meters
Tail operated

Lumintop EDC01
Modes: 3
Output (lumens)/runtime: 5 (36 hr), 32 (4 hr), 120 (30 mins)
Weight: 12g
Distance: 37 meters
Twist operated
Maglite Solitaire LED

Mode: 1
Output (lumens)/runtime: 47 (1.45 hr)
Weight: 24g
Distance: 46 meters
Twist operated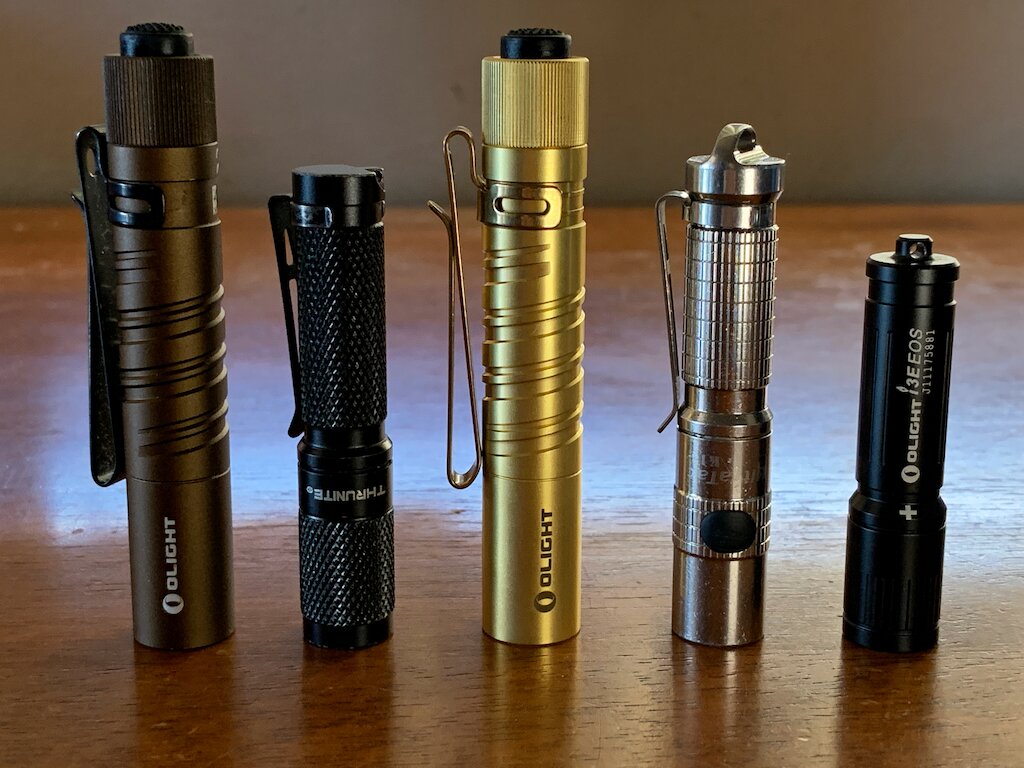 The Best AAA Flashlights Review
Here are the top AAA flashlights on the market we reviewed and we start with the most sought after flashlight.
SureFire Titan Plus
SureFire is a well known manufacturer of flashlights for military and law enforcement. If you need one with good build quality, durable, and an ultra-bright LED on an AAA flashlight, then consider getting one. This second generation Titan uses a single AAA and it improves on the previous version and while retaining its simplicity. SureFire Titan Plus keychain light is one of the most powerful AAA flashlight in our list. Due to its high performance, reliability, and good run time makes it a good choice for a compact AAA flashlight.
Three brightness modes, twist switch, small size, 15 lumens output on low, 75 mid, and 300 lumens max output with a NiMH battery. For best maximum lumen output, using a rechargeable NiMH battery is suggested, but the flashlight can also use an ordinary alkaline AAA battery.
The flashlight has a faceted reflector that produces a smooth seamless beam pattern. This is referred to by SureFire as their proprietary MaxVision beam.
It has a removable, two position pocket clip, and quick detach plastic tail cap which allows you multiple ways of carrying the light. It is not clipped on the flashlight body which is usually found in other lights. Unscrewing the bottom end allows it to be put it in.
The flashlight is made from nickel-plated brass which is very durable and helps resists scratching and corrosion. It comes at 3.37 inches in length. Compared to other flashlights, the Titan plus has a well built body and it shows when you handle and use it.  It has a nice heft, easy to hold and use, and has a well designed attachment clip. The only cons there is to this flashlight is the cost. It offers great features, small, powerful, and as with all Surefire products, extremely reliable. But that comes at a cost. Though if you're looking for a reliable keychain flashlight for everyday carry, with impressive specs, you can't go wrong with SureFire Titan Plus.
Pros:
Well constructed
Impact resistant LED
High output
Cons:
---
ThruNite Ti3 V2
This Thrunite flashlight is another solid, lightweight, and compact light. One of the best LED keychain flashlight and one of the smallest AAA flashlight in our list.
There are three brightness modes, twist the head to turn the light on and change modes. The lowest mode is firefly which has 0.04 lumens, 12 lumens on mid, and 120 lumens on high. The low power mode  comes in handy for specific situations that requires not disturbing anyone close or disrupting your dark adapted vision. It also enables the light to have a long battery life of up to 115 hours. A hidden strobe mode is also available using 120 lumens.
The flashlight is 2.6 inches long. It has a reversible clip which snaps into the body of the flashlight, and a keyring attachment. The flashlight can still stand on its base even though it has a keyring attachment due to the unusual design end. It is IPX-8 rated which means it is submersible in water, which is great if you will use it as a keychain light. There are times that your keyring will get wet when you get caught in the rain.
One of the unique things about this light is it is available in two versions Ti3 NW (Neutral White) and Ti3 CW (Cool White). Neutral white has a warmer shade and is similar to normal home lightbulbs. Very pleasant light for indoor use and night work due to good color rendition. Cool white emits a white light with a bluish tint which results in inaccurate color rendering.
ThruNite Ti3 gets good reviews and is an affordable light for everyday carry. Get several to keep one your bag, car, purse, and keychain. This light is also available with a different LED emitter ThruNite Ti3 XP-L V6 which puts out 130 maximum lumen on high. There is also a ThruNite Ti3 titanium flashlight version, the ThruNite Ti CW.
Pros:
Affordable
Firefly mode
Choice of LED
Cons:
Confusing mode memory (starts on the next mode rather than the last used)
---
Ultratac K18
Ultratac K18 is a unique light that has a side switch to turn on the light and move through different brightness modes. Flashlights using AAA size battery typically has a twist switch or a tail cap button.
It has three modes, with the brightness depending on the type of battery used. Unlike other flashlights, this one can use a rechargeable 10440 battery. The only disadvantage to this flashlight is the removeable USB charging cap which you need to attach when you need to charge. But this also means that you have a solid waterproof light with IPX-8 rating and submersible to 2 meters.
On a 10440 battery it will emit 5, 80, and 370 lumens high mode. 370 lumens is the highest flashlight lumens we have in our list. Using AAA battery will be 3, 25, 100 lumens which still is very usable. To prevent accidental activation, it can be electronically locked (click twice when off). Due to use of 10440 battery, it is the brightest AAA light in our list. One of the pros of the flashlight is the manufacturer listed max beam distance that is capable of reaching up to 88 meters. Quite a long reach for a small flashlight.
The flashlight has mode memory function which remembers the last mode used before turning it off. This memory is maintained even if the battery is removed. No more cycling between modes every time.
Ultratac K18 uses protected 10440 batteries. This is the better option for longer discharge rate. The LED emitter is a Cree XP-G2 S4 which is a little bit brighter than the previous model. Side button switch is now made from stainless steel instead of black silicone. And most important is a low voltage warning when using 10440 batteries, it will go to low mode and blink thrice every five seconds. This is the smallest flashlight with the highest lumens in our list. This gives you a good balance of price vs performance.  Check our Ultratac K18 flashlight review.
Pros:
Reverse polarity protection
Long range
Super bright 370 lumens
Cons:
---
Lumintop Tool AAA
Lumintop Tool LED keychain flashlight has an aluminum alloy body with an electronic tail switch and uses a Cree XP-G2 R5 LED bulb with an orange peel reflector.
The aluminum body of the flashlight has an anti-scratch military grade scratch resistant hard anodized finish which makes it very durable. It is 3.2 inches long. The knurling is machined well, and the finish and design really stands out. Like most compact AAA light it has a stainless steel clip and  attachable on either flashlight head or tail.
The unique thing about this light is that it has a brass circuit board to help in heat dissipation, and a fluorescent o-ring in the head near the reflector.
It has three modes which outputs 5, 32, and emit a maximum of 110 lumens. Unfortunately it doesn't have any mode memory, but it always starts on medium. Each half press changes mode from medium, to low, then high. The orange peel reflector combined with double-side AR coated lens creates a smooth beam
This is a tail clicky flashlight small enought to fit in your pocket you can attach it to a keyring as well. The flashlight can use both AAA and NiMH batteries. Overall, its a great little light with positive reviews, offers good features, and doesn't cost a lot of money. Lumintop Copper Tool body version is also available. More about Lumintop Tool AAA in our review.
Pros:
TIR optics
Price
Lightweight
Cons:
No neutral white version of LED
---
Olight I3T EOS
Olight is one of the best flashlight brands and manufactures great quality illumination tools. From tactical flashlights, safety and self defense, to small and compact EDC lights, they have it. Olight I3T is one of their most popular models, and it is one of their models which has been through several generations, with this being the third.
The flashlight is built from AL6061-T6 aluminum alloy and comes at 3.6 inches in length. This  is a dual mode flashlight that throws a good flood beam with a LUXEON TX LED. It provides a maximum output of 180 lumens with a runtime of 21 minutes and a throw of 60 meters. The low mode is just 5 lumens and has a runtime of 16 hours. Solid IPX-8 rating means that this flashlight is waterproof and can withstand immersion in  water.
The dual output flashlight is tail clicky operated for turning the light on and off and changing modes. There is no memory so it always defaults to low mode when switched on. It comes with an S-style pocket clip so reversible carry is possible without removing the steel clip. Clip it to your hat brim or pocket, or take it out if desired. All in all, it offers great features and good specs which makes it a great EDC light. Review for the Limited Edition Brass version.
Pros:
Versatile two-way clip
Soft beam
Simple interface
Cons:
---
Prometheus Lights Beta QRv2 – High CRI 90+
Prometheus Lights Beta QRv2 is a keyring flashlight with a great build, good aesthetics, and minimalist appeal. Don't let the size deceive you. Tiny, with excellent light output, and features an innovative quick release feature to pull out the light from your keychain and use as a dedicated flashlight. Hate keychain flashlights? Don't fret, as there's an available titanium Prometheus Beta QRv2 Pocket Clip set that replaces the keychain attachment. The flat base of the body allows the light to tail stand.
It uses a Nichia 219C High CRI 90+ LED with 60 lumens maximum brightness with a twist operated head for turning on the light and changing modes. The triple mode flashlight runs on 1 lumen low, 15 lumens medium and 80 lumens on high. Having two modes makes the light user friendly and easy to use, and well suited for most tasks.
Prometheus Lights Beta QRv2 body durability is due from 6061 T6 Aluminum material with Electroless Nickel Plate and has evenly spaced grooves on the entire flashlight body for better grip. Prometheus Lights makes some of the best and innovative products in the market today and you cannot go wrong with getting any of their flashlights.
Pros:
Replaceable keyring
High CRI Nichia
Choice materials
Cons:
Better grooves on the head for easier activation
---
Fenix LD02 v2.0 – High CRI LED
Fenix LD02 V2.0 is an upgraded model that features dual light modes. This Fenix AAA flashlight has dual LEDs consisting of a Cree XQ-E HI LED 3000K warm white light with a light output of up to 70 lumens, and a 365nm/200mW UV light. The UV light is useful for laboratory and medical use, searching for wildlife, or looking for watermarks.
The Cree XQ-E HI LED provides good color reproduction. It has three modes with 70 maximum lumen, medium of 25 lumens, and 1 lumen lowest mode. The flashlight mode cycles from low, medium, high, then UV.
This light and compact flashlight has a slim profile and easily fits in your pockets or bag. It has three brightness levels using the HI CRI LED and uses a single AAA battery to operate. Made from Type-III hard anodized aluminium makes this flashlight tough and the knurling provides good grip. This Fenix flashlight is tail switch operated for easier one handed operation.
Pros:
High CRI
UV light
Reverse polarity protection
Cons:
UV light can get in the way
---
Olight i3E EOS
Olight i3E EOS is another simple and basic flashlight that runs on a single AAA battery. This is a twist operated flashlight that features a LUXEON TX LED with a PMMA TIR lens.
This single mode flashlight with no mode switches, just turn the flashlight on and it will deliver 90 lumens of brightness. The TIR lens gives a wide diffused light with no hotspot in the middle. At 2.38 inches long, this is one of the smallest light in our list. Despite its small size, the light is still capable of reaching up to 48 meters. Olight i3E EOS is a good flashlight for both indoors and outdoors. Useful for evening walks, running, or taking your dog outside.
Olight I3E EOS is a tiny and powerful torch that disappears in your pocket. Small enough to fit comfortably in your pocket or bag and with simple twist operation makes it easy to operate.  This one of the smallest AAA flashlight with good features and ease of use makes it the best compact LED flashlight for your keychain.
Pros:
Single-mode
Diffused flood beam
Small and bright
Cons:
Smooth body may get slippery
---
Fenix E05 LED Flashlight
Another Fenix AAA flashlight in our list is this excellent and small Fenix E05 torch. Like old version of Fenix LD02 this uses the same Cree XP-E2 LED but with a lower light output. The flashlight has three brightness setting, 85 lumens on high, 25 lumens medium, and 8 lumens on low. The twist function operates the light and changes modes.
The flashlight is 2.6 inches in length. It doesn't have any clips and the profile is much smaller which makes it perfect for putting on a keychain. The stainless steel body of the flashlight has a flat base which allows it to stand up on a flat surface to light up a room.
Pros:
No pocket clip
Small
Ease of use
Cons:
Always starts at the lowest setting
---
Manker E02 II –  Brightest Flashlight
Looking for a unique flashlight to add to your EDC? One of the coolest flashlights is the high powered Manker E02 II. It is a 90 degree flashlight or a right angle flashlight that has an L-shaped form. The angle form factor allows extra versatility when in use as it allows multiple carry options. Comfortable design make it perfect for hands-free use as you can tailstand the light and freeing both hands to do other tasks. It can act as an excellent headlamp, and good for attaching to bag molle straps due to its forward facing design.
This flashlight has a Luminus SST20 LED that throws out up to 420 lumens at the highest setting. Has multiple modes plus a strobe feature. Manker E02 II has a high mid of 90 lumens on a 10440 compared to other flashlights in our list. The light may not  have a friendly interface but it works well. It uses AAA alkaline batteries, NiMH, and also Lithium 10440 batteries. Get a this flashlight if you need a durable EDC flashlight that works well for different tasks. It can also be considered as the best 10440 flashlight due to its extremely bright 420 lumens of light on a single 10440 battery.
Pros:
Unique AAA angle flashlight
Super bright
Flashlight moonlight mode
Cons:
---
Foursevens Preon P1 MKIII
Foursevens flashlights are some of the best designed flashlights in the market. The Foursevens Preon P1 MKIII is a stylish AAA flashlight with a slim profile that would not look out of place in your briefcase.
Constructed from 6061-T6 aluminum in either Electroless Nickel or HAIII black anozided, this flashlight has a good quality finish. It comes with a removable stainless steel pocket clip.
The Foursevens Preon P1 is a high CRI flashlight with a 92+ CRI rating. It uses a Nichia 219 LED that emits 10 lumens maximum. There are four brightness levels low at 1 lumen, medium going for 15 lumens, high at 60 lumens and max at 100 lumens.
This flashlight has excellent UI with six re-configurable user interface ranging from one output to all six modes easily accessible. The user friendly interface may be difficult for beginners but once you get the details down pat, you will realize that its not that difficult. The tail clicky switch lets you operate the light and change modes with one hand. The Foursevens Preon P1 is an excellent EDC light.
Pros:
Sleek
High CRI Nichia
Programmable user interface (UI)
Cons:
---
Drop AAA Brass Flashlight
A popular EDC flashlight from Drop (formerly Massdrop), the Drop Brass AAA flashlight is a highly recommended mini pocket LED torch. This Massdrop AAA flashlight has a brass finish and uses a Nichia LED with an orange peel reflector. The brass body of the flashlight will develop a nice and unique natural patina over time. It features knurling for better grip in slippery conditions. The LED has a neutral white tint and delivers excellent good tint. It emit a maximum of 85 lumens and runs up to 36 hours on the lowest setting. Drop AAA flashlight comes in aluminum, copper, and corrosion resistant titanium. Also comes in Cree XP-G2 R5 LED version for those that prefer cool white tint and up to 110 lumens brightness. For a Titanium EDC flashlight version, check out the equally good Drop Blue Titanium AAA Flashlight.
Pros:
Brass
Other materials available
Mini size
Cons:
---
Streamlight Microstream
Streamlight's popular flashlight due to its compact size, low cost, and durability. This is a single mode flashlight that is easy to use and powered by a 1xAAA battery. It has a push button tailcap switch for momentary or constant on operation. The flashlight uses a reliable C4 LED with an output of 45 lumens, with a beam distance of 41 meters, and a runtime of 2.25 hours.
The flashlight body is constructed from durable, anodized aircraft aluminum. Military spec hard anodizing makes this flashlight durable and can survive rough use. With a length of 3.60 inches and weighing only 1.10 ounces (31.18 grams), this flashlight is ultra-compact and fits well in your pocket.
This Streamlight AAA flashlight features an S-type clip which adds to its versatility. The two-way clip design allows for easy clipping to your pocket, brim of the hat, or bag.  The flashlight package includes a high-strength "breakaway" safety lanyard. The lanyard will allow you to hold it around your neck or for wrapping the light around your wrist to avoid losing it. This is an easy to use flashlight and good for those that want a backup or secondary light to use daily.
Pros:
Cons:
Better knurling to aid with  grip
---
Lumintop EDC01 AAA LED Flashlight
Another good everyday carry flashlight that fits in your keychain is Lumintop EDC01. Its compact and lightweight design makes it easy to carry and goes well with your keyring. This mini keychain flashlight is very powerful for its size, and with a runtime of up to 36 hours. The flashlight is IP68 waterproof rated meaning that it is submersible under water up to 2m deep.
Lumintop EDC01 is equipped with an OSRAM LED that delivers 120 lumens of brightness using a single regular AAA. Ordinary alkalines, or rechargeable NiMH batteries may be used. The TIR optic gives out a wide diffused light which is very convenient for illuminating near objects. The soft and balanced beam it produces makes it easy to read  or inspect objects in the dark. Despite the size, this EDC01 has three modes controlled with a twist of the flashlight head.
This flashlight is constructed from an aircraft grade aluminum body with wear resistance coating.  It is easy to handle due to the unique body design that aids grip. It already comes complete with a keyring clip included so you can just clip it to your keyring. Also included in the package is a glow-in-the-dark diffuser which works when using the light in candlelight mode.
Pros:
Waterproof
Wide diffused beam
Good runtime
Cons:
Lack of range due to the diffused beam
---
Maglite Solitaire LED Flashlight
Maglite Solitaire is a simple flashlight and a perfect keychain sized light. It was first introduced in 1988, and back then, it used an 2 lumen incandescent bulb. The only update the flashlight had was the change from the incandescent to LED way back 2012. This is a basic single AAA powered flashlight and the smallest Maglite flashlight there is. This all-around flashlight is weatherproof, impact resistant, and corrosion resistant.
It is not as powerful as other flashlights in the market, but definitely a better choice if a handy small flashlight is all you need. Pop in an AAA alkaline battery and  it just works. Suited for people who needs a basic flashlight, and bright output and multiple modes comes second. This adjustable beam flashlight body is very durable due to aluminium construction and type-II hard anodized.  Candle stand possible due to flat tail cap.
Twist function with only a single mode from a Philips Luxeon C LED outputting 37 lumens. By turning the head you can change the focus of the beam from spot to flood. Due to its simplicity and durability, this is the perfect backup light.
Pros:
Affordable
Price
Focusable beam (spot to flood)
Cons:
---
Get the Best AAA Flashlight Today
A compact AAA flashlight is always good to have in your kit. It doesn't take too much space, lightweight and easy to carry, and battery is always available. Choosing an AAA flashlight is not that hard. An AAA battery flashlight doesn't dissapoint because despite the small size, it is very capable of putting out a lot of bright light. Always remember to get something easy to use, that is appropriate for your needs, and always keep it handy.
Decide if you want to get a high lumen flashlight or something that has nominal brightness but better runtime. Select the right material of your choosing, from quality anodized aluminum body, copper, brass, or titanium. We cannot stress enough the importance of always having a flashlight in your pocket or key ring.
---
Read more