The most important upgrade that you can have on your fidget spinner kit is by buying the best ball bearing. It doesn't matter if you have the best looking and most expensive spinner if the ball bearings don't spin well. Choosing the best fidget spinner bearings can make a spinner less noisier, increase spin times or provide better feedback.
Best Fidget Spinner Bearings
Bearing Parts
There are three major parts of a ball bearing. Two rings called races, inner race having a smaller diameter than the outer race. The races will have balls in between, with a cage separating the balls. In some cases, ball bearings will not have a cage, but they will have more balls in between to keep the races together.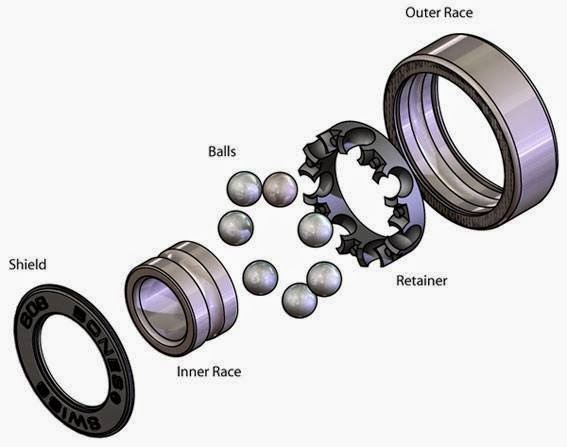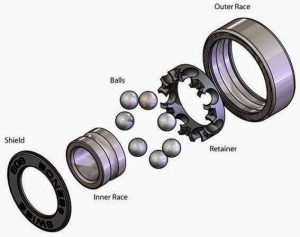 Bearing Types
Steel
The cheapest, widely available, and usually found in inexpensive fidget spinners. The bearings can be made from chrome steel, stainless steel, or carbon alloy steel. This type of bearing provides good spin times. But since steel doesn't dissipate heat well, it may result in slower speeds. Steel bearings can be prone to rust, depending on what material it is made from.
Hybrid Ceramic
It has stainless steel races with black ball bearings made from Silicon Nitride (Si3N4) or white ball bearings made from Zirconium Dioxide (ZrO2). The balls are usually encased in nylon or stainless steel cage. Since the balls are made from ceramic, they resist heat and corrosion better than stainless steel. Black balls are the preferred choice for fidget spinners since they give the best spin times. Hybrid ceramic ball bearings are more expensive than steel. This is the best fidget spinner bearings you can get.
Full Ceramic
A full ceramic ball bearing has all parts made entirely from ceramic (races, balls, cages). This characteristic makes it the most fragile of the three types. It also noisier and transfers more vibration when it spins which results in better tactile feedback. Some prefer this type due to the spinning sensation it gives even though it doesn't spin as long as a hybrid ceramic. There are people who really doesn't want long spin times since they flick their spinners every now and then. This is also the most expensive type of ball bearing.
Bearing Sizes
608 
Traditionally used for skateboard, longboards, and inline skates. It is 22 mm diameter and is larger than an R188. These bearings are commonly labelled with an ABEC number (1-9). This scale is an industry standard for tolerances of a ball bearing. The higher the ABEC number, the more precise, efficient, and possibly greater speed the bearing has.
R188
This is a small bearing with 12.7 mm diameter. There are different thickness, 1/8″ and 3/16″. Most spinners use the 3/16″ size. R188 bearing are normally used by small fidget spinners. This type of bearing is also used in yo-yo's where it is known as Type C or Size C.
606
606 is not a common size for fidget spinners. They are similar to a 608 but slightly smaller, being 17 mm in diameter.
Open, Shielded or Sealed
Ball bearings have different styles: Open, Shielded or Sealed.
Shields, are basically a cover to protect the balls from dirt. They made from rubber or plastic which makes them easy to remove. The bearings with non-removable shields (sealed) can be identified by having "ZZ" in their name. Shields protect the bearing from dirt, and non-removable ones can make it difficult to clean or strip away any grease or lubricants that often comes with new bearings. Lubricants are not ideal for fidget spinners as it creates friction, which results in lesser spin time. Shields can adversely affect spin times and that's why open-style are preferred for fidget spinners.
Cleaning Fidget Spinner Bearings
Remove bearing from fidget spinner. Beware as some bearings non-removable. They are glued (Loctite) to the fidget spinner.
Use 99% Isopropyl Alcohol and pour a small amount enough to soak the bearing in a container.
Soak and swirl the bearing in the solution. Take it out, and spin several times. Repeat the process.
Dry the bearing using a can of compressed air or blow dryer. Do not use paper towel or rag as they may contain lint. Make sure the bearing is completely dry otherwise steel parts will eventually rust.
Which Bearing is the Best
Choosing the best ball bearing depends on what you are after. If you are looking for good spin times, the R188 bearing is the best choice. It has a smaller diameter compared to a 608, therefore the spinner body will have more mass. This results in longer spin times, especially for heavier metal spinners. If you want good tactile feedback a full ceramic bearing is the best option. It may not spin as long as a hybrid ceramic but the average spin times can still be as good as the steel ones.
If a discrete, smooth and quiet spinner is desired, avoid full ceramic bearings. They can be noisier than steel or hybrid ceramic.
As I've said before, long spin times should not be the only factor in choosing the ball bearing. You will tend to flick the spinner every now and then.
Bearing Converters
A fidget spinner using a 608 bearing can be converted to use an R188 by using an adapter. If you have a favorite fidget spinner using 608 bearing, this is a a great option. Since 608 is a larger bearing, an adapter basically fits an R188 size bearing into a larger housing. This can then be used for fidget spinners that have a 22mm size opening to fit in a 608 bearing.
Best Fidget Spinner Bearings
Traditionally used as skate bearings. These bearings are 608 in size. They come in packs of 8 and usually come pre-lubed so cleaning them before using is necessary.
Yellow Jacket 608 ZZ Premium Bearings
Another popular 608 sized stainless steel ball bearing. They also come pre-lubed so cleaning is necessary.
A double shielded 608 stainless steel bearing from VXB. This uses carbon steel for durability, and as with skate bearings, they come pre-lubed so cleaning using alcohol is a must.
An R188 sized stainless steel ball bearing that is used for OneDrop yo-yo's  and the Trillium fidget spinner. You can choose between lubed or cleaned depending if you want quiet or long spin times.
NEAL Precision 608 Hybrid Ceramic
NEAL Precision Blackouts 608 size, hybrid ceramic skate bearing. It uses silicon nitride (Si3N4) balls. Comes in packs of eight with spacers included. NEAL Precision has 4 different types of bearings. Stainless steel "Arctic Whites", swiss grade "Hurricanes", titanium "Cannonballs" with titanium coated micro-finish, and hybrid ceramic "Blackouts".
Nfinite Spin R188 Hybrid Ceramic Bearing
An R188 size hybrid ceramic ball bearing with nylon cage, Si3N4 balls and stainless steel races. Non lubricated and no shields so it will give good spin times.
Coogam has a variety of ball bearings of different types and sizes. This is an R188 hybrid ceramic with silicon nitride (Si3N4) black ball. Comes in pack of two.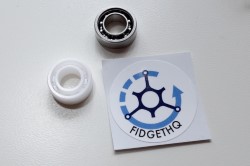 FidgetHQ Bearing (Steel/Ceramic/Hybrid Ceramic)
FidgetHQ has ball bearings of various types and sizes, from stainless steel (shielded or unshielded), to hybrid ceramic, and full ceramic. They also offer High Velocity SS V2 or High Velocity Hybrid Ceramic V2 which has less metal on the retainer for less friction and longer, faster spin times.
A full ceramic 608 from VXB. It has PTFE ball bearing cage and zirconium oxide (ZrO2) balls, inner and outer races.
VXB 608 Full Ceramic Bearing ZrO2/Si3N4
Another full ceramic 608 from VXB. The races are made from zirconium oxide (ZrO2) and the black balls are made from silicon nitride (Si3N4). Best choice for 608 bearing.
Choosing the best ball bearings for your spinner depends on your preference. Apart from longer spin times, less noise, good feedback, the time spent for cleaning and maintenance should also be factored in. With regular use, fidget spinners ball bearings can trap dirt and grime, become gritty and eventually rust. The ball bearing you use should always kept in excellent condition.
Related Posts